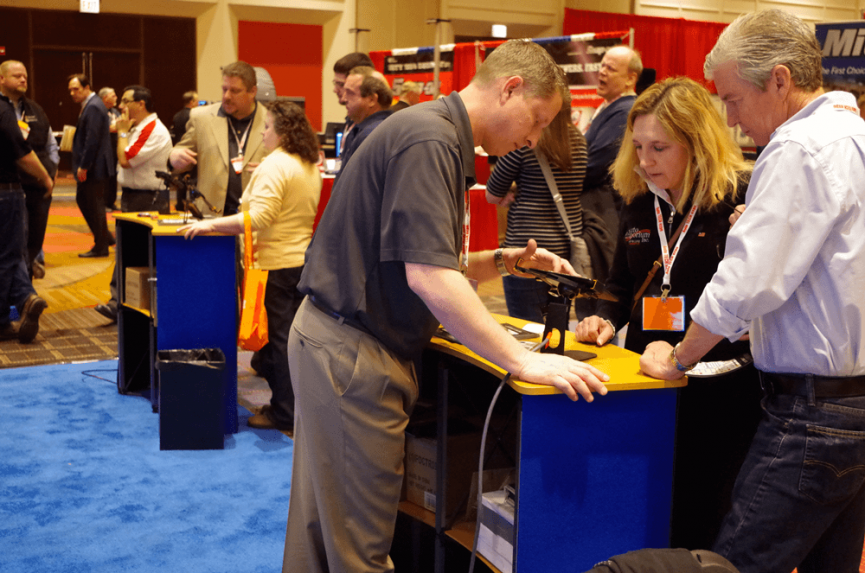 The trade show floor can be intimidating. Hundreds, if not thousands of exhibitors, countless booths, an unending array of things to see, try out and learn more about.
The experience can be overwhelming. But, with a bit of advance preparation, you and your auto repair shop staff can get the most out of trade shows in 2015 and for years to come.
5 Tips for Preparing for Trade Shows
Define your objective
The first step is to determine what you hope to accomplish from attending the trade show and consider the service providers and/or products that could help you reach those goals.
Do your homework
While your objective might be obvious, it may take some research to know which exhibitors most closely align with your goals. Take the weeks leading up to the event to read up on exhibitors and get a basic understanding of their offerings.
Ask the right questions
You have determined which trade show exhibitors are worth your time. Be sure to ask questions that allow the exhibitor to explain how their products or services could help your business. If possible, try to avoid questions with yes or no answers. If you will be seeking out multiple exhibitors with similar products or services, be sure to ask the same questions of everyone to allow for a true comparative analysis.
Ask for the "how" behind the exhibitor's offerings
Instead of asking a question that could be open to various interpretations, try rewording the question to ask how the system works, for instance. The answer will likely give you more insight and a better sense of whether the product is truly a match for your shop's goals.
Show, don't tell
Even better than the "how" of the product or service is seeing it in action. See for yourself the product's attributes, or shortcomings, by asking for a demonstration.
We will be exhibiting at several trade shows this year. Click here to see us in 2015.