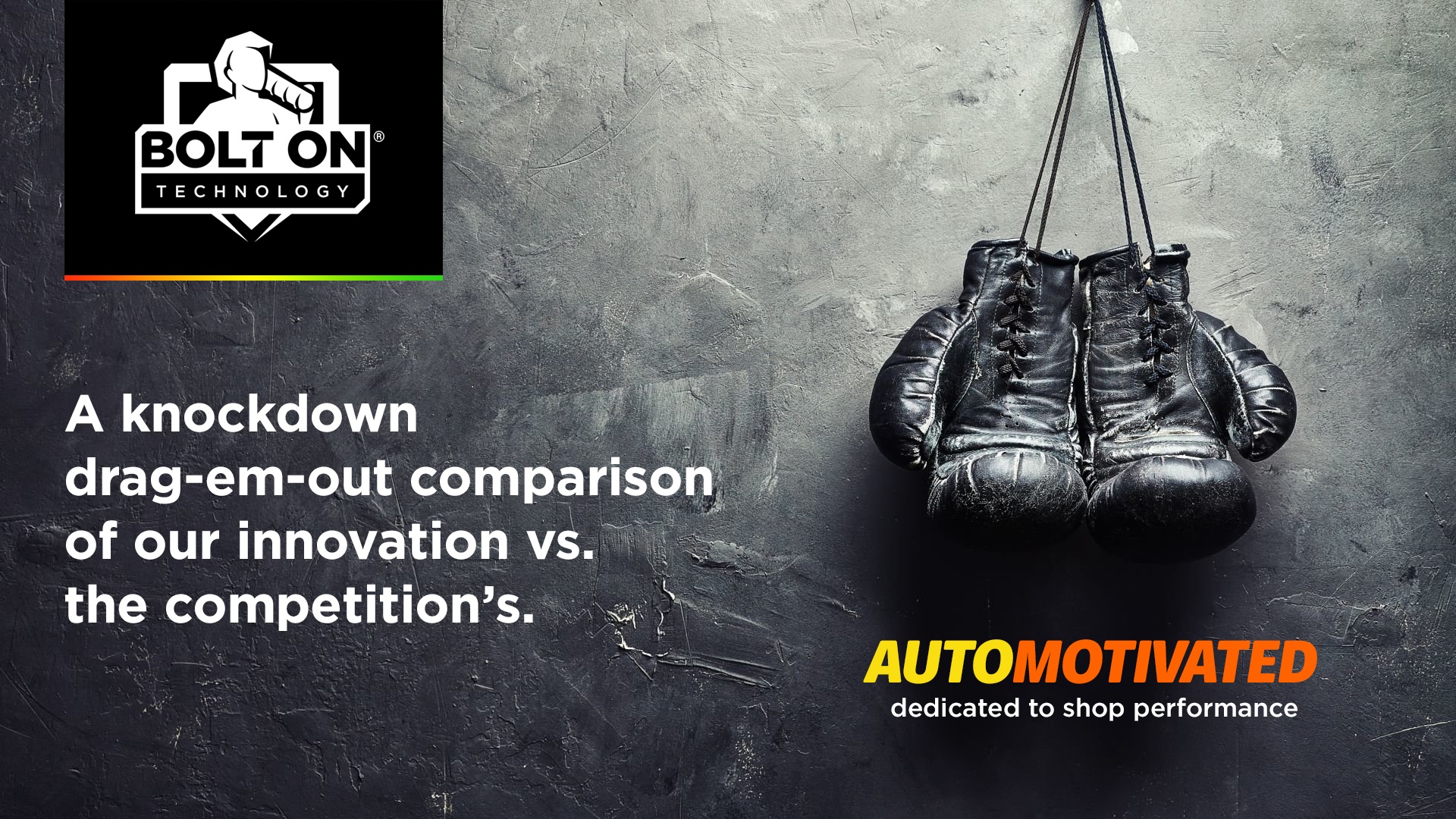 The choice is clear on why more than six thousand shops across the country have chosen BOLT ON. We did a "knock down drag em'out" comparison of our solutions vs. the competition.
What Shops Think About Our Competitors
Ben Nielsen's Skyline Automotive
"We were not happy with the service we were getting," said Nick Andrews, Service Manager of Ben Nielsen's Skyline Automotive. "We had a lot of network issues with the other software companies."
Kelly's Auto Repair
"I started with another company," says Kelly Michel, owner of Kelly's Auto Repair. "They were good for the inspection process, but we went with their paperless back shop, and there were a lot of problems. The lag time, it was slow, the tablets froze, it was just too many problems."

What Makes Us Better
"We are the only company that actually does 100% real time, 2-way integration," said Frank Dragoni, Director of Sales & Corporate Partnerships at BOLT ON. "We not only pull data from the shop management system, but we replace it and feed it back in."
This all happens in under a second, with no effort whatsoever!
"Because we write directly to the shop's database, our software resides in the shop unlike most of our competitors," said Dragoni. "Some of the others use a website, application, or web service and, unfortunately, if there's an issue that causes it to go down, all the shops go down."
BOLT ON custom builds integration shop by shop. So if one shop is having technical issues, it does NOT affect any of other shops around the country.
Ben Nielson, Skyline Automotive
"A lot of the other competitors offer huge packages that do tons of things that overcomplicate the process," said Ben Nielson, Skyline Automotive. "It should focus more on the product."
Our Philosophy
At BOLT ON, there are no contracts to sign because we believe in earning our keep. If a shop does not sign a contract with us, it forces us to produce a better product month after month.
"We work hard, from support, to adding new features, to training," said Dragoni. "It forces our team to keep in touch with the shop. We have a Customer Support Team who tracks and monitors usage at the shop. If we see something off or that doesn't seem right, we are the first to reach out and offer additional training."
Customer service and constantly improving our software is why BOLT ON is the driving force in automotive software. It's about working with the shops and helping them.
"Digital Inspections are going to help increase your average repair order (ARO)," said Dragoni. "What makes BOLT ON so unique is that we are more than just the inspection, we help you keep cars coming back more consistently."
Make the switch. The clear choice is BOLT ON. Request a Demo today.