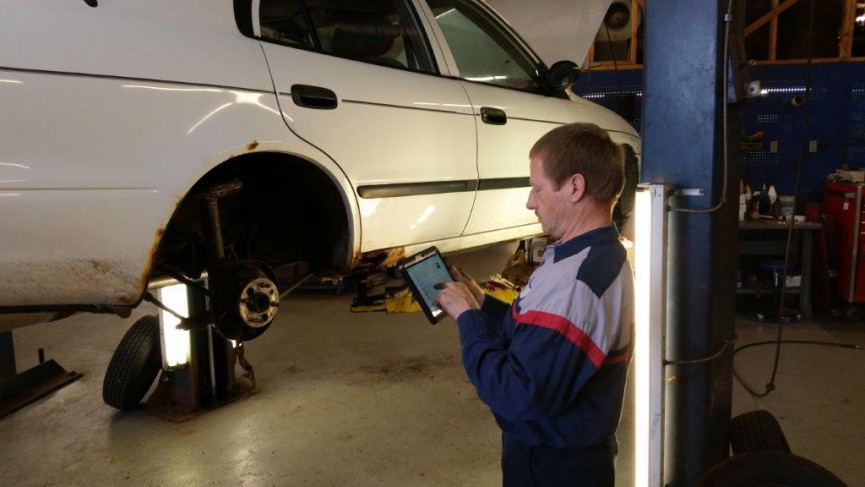 It was common practice for Service Manager Mike Chase to leave a message for a customer and, "wait, wait, wait," for a call back. In the hours that followed, until Chase could talk to customer, the technicians, at Holt Auto Service and Machine Shop, wasted time taking vehicles down from lifts only to begin the seemingly unending cycle again with another vehicle.
Since the nine-bay shop began using Mobile Manager Pro, customer communication – and repair work authorizations – have moved into the fast lane. And, the response from customers after receiving color-coded digital inspections and detailed vehicle condition photos has been "phenomenal," Chase said.
"The response I get back from people is unbelievable. They can actually see what we're seeing," he said. "A picture is worth a thousand words. Even if they're not buying everything, they can see it for themselves." In the days of simply telling customers what was wrong with their vehicles, Chase said, "You always wonder, 'do they believe you?' This way, there's no question."
"A picture is worth a thousand words. Even if they're not buying everything, they can see it for themselves."
Since he began using Message Manager text messaging software, getting customers on the phone is much easier with a greatly improved response time. For the most part, customers call or text back within minutes. Chase goes the extra mile by reviewing the inspection results with customers, item by item, over the phone.
"I want to make sure they hear from me," he said. "The lost art is communicating with customers."
Inside the shop, Mobile Manager Pro is helping to keep technicians accountable for doing more thorough inspections. "If you didn't check it off, we know you didn't look at it," Chase said. "The payoff is so much better. The estimates I'm writing are a lot larger."
In June 2015, the first month of using Mobile Manager Pro, the shop made $12,000 more than it had projected for that month due, in part, to the mobile technology. The shop's average repair order rose from $111.22 prior to inspections to $526.37 after inspections – an increase of $415.15.
Customer trust, through photos and descriptive inspection reports, has helped increase profits as well.
"This is a big step toward the trust factor," he said.

For more information, call 610-400-1019.