4 Benefits of Utilizing Your Shop's Social Media
October 21, 2019 / Marketing

Social media, whether you love it or hate it, there's no denying its usefulness when it comes to marketing for your shop. The strategy behind social media marketing requires some different tactics, it's true. If you use your social media platforms like you would other more traditional means of marketing, your messaging will ultimately fall flat.
Why Your Shop Should Utilize Social Media?
The key in utilizing it for your benefit lies in its name—social media. It's a two-way experience now, you're starting a conversation with your existing and potential customer bases. Of course that's all well and good, but what are the benefits you can expect to see from an effective social media presence for your shop?
Brand Awareness
Much like a website, your social media pages act as a digital shop front for your business. This is where your customers can find you, even if it's after hours. They can send you messages, interact with any promotions or content you have, ask questions, and more. Your pages are an opportunity to bring the essence of your business to someone's living room, office, or on the go with them.
Through using your social media pages to their full potential, you have the opportunity to further humanize your brand. Share milestones for your shop, community events you're participating in, or even just a funny picture from the shop. It's also an excellent place to share educational content with your customer base. Just like you're educating them when they visit your shop, you can make sure that they're learning from you even when they're in between appointments.
Improve Customer Service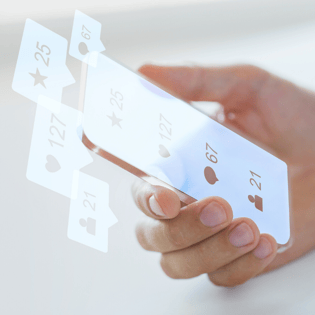 Your social channels are a way to show your customer service off to whoever is considering becoming your customer. You've probably noticed that reviews are a big deal, whether they be on Google, Facebook, or another platform. When people are searching for your shop, they're taking those stars into account. You may worry about those bad reviews, but they're an excellent opportunity for proactive customer service. You can respond to them to help clear up any issues. But you don't have to wait until you get a bad review to respond—make sure you're also responding and engaging to those who leave you good reviews and are advocates for your business.
Your pages also have a messenger feature where customers can send you questions. It's a quick and easy feature that many people take advantage of and appreciate because it's convenient. If you want to have someone monitoring the messenger features on your social accounts, that's a great way to communicate for quick questions. If your shop doesn't have the time to invest in this feature, you can always set up an auto-responder which sends the person contacting you a boilerplate message of a phone number to get in contact with you.
Educate & Promote
Your social channels can offer opportunities for new levels of transparency with your customer base. When they come into your shop, you explain to them exactly what's wrong with their vehicle that day and educate them. Continuing that education and building a rapport should be your primary focus for your social channels. If your shop's website has a blog, you can create and then share educational posts about car care and safe driving. It's a great way to show you aren't just interested in their money and genuinely care about the people and vehicles your shop comes in contact with. Also, don't be afraid to let your customers get to know you through your social channels—they want to get to know the people behind the counter and in the bays. Feel free to show your shop's personality and values on your page.
The meat of your content should be engaging and educational material, but your social media channels can also be used as a way to promote your business the old fashioned way. If you're running a discount or promotion, use your social media presence to make it known to your customer base. This is also an opportunity to help drive traffic to your website.
Drive Traffic to your Website
Blogs and promotions have a greater purpose than they appear at first glance. Sure, they're educating your customers and announcing sales they can take advantage of, but ultimately these feed back into your website, which is your ultimate online presence. Sharing content, such as blogs, on your social media pages can help drive traffic to your site. Make sure your site is ready for any visitors that come your way. Having an easy-to-navigate and responsive website is important. Does your website allow customers to book appointments online? If it does, driving more traffic to your site is definitely important for increasing the number of appointments you receive.