5 Tips To Improve Your Shop's Customer Service
October 07, 2019 /

Vehicle maintenance and repair isn't the top thing people look forward to on their to-do list. Oftentimes the significant cost of repair or maintenance coupled with an existing distrust in the automotive repair industry leads to an already unhappy customer off the bat. But that doesn't mean that your shop's customer service can't change their minds and mood. So, how can your shop provide top notch customer service, improve the customer experience in your shop, and ultimately make more money in auto repair?
1. Prioritize Convenience
Creating an easy and painless experience for your customer will go a long way in terms of impressing them. We live in a culture of convenience these days,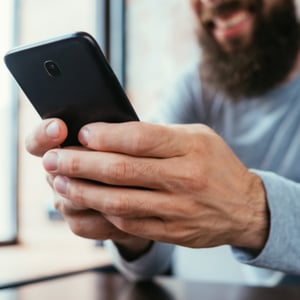 so much so that it's even more apparent when processes and experiences are sluggish and complicated. But with technology, making things more convenient for your customers becomes simple for you and your shop from the moment they pull into the parking lot or step up to your counter. When they arrive, you can greet them at their vehicle or they can check themselves in with a check-in kiosk.
Calling is no longer the most convenient option for getting in touch with your customers. People are busy, and so is your shop. With texting, you can cut those approval wait times significantly for your shop while making the response process quicker and easier for your customers since not everyone has the ability to answer a call right away. When all is said and done, your customers can be notified for pickup and complete their transaction through texting as well.
Related Post: Should I Call, Text or Email My Customers?
2. Personalize Your Communication
A personalized experience is a good experience, and now more than ever you have the ability to go above and beyond. Show your customers that you not only remember them, but their vehicle as well. Access their vehicle's history, see past recommendations, and more. From the start you are able to set expectations for their visit and make notes of the issues that may be bringing them into your shop that day.
3. Don't Cut Corners and Provide Updates
Keep the communication momentum going throughout the day by providing updates so the customer always feels like they're a part of the process. Alleviating communication blind spots is paramount to creating a personalized customer experience.
4. Educate Customers
Education is a fundamental part of the customer experience. It's one thing to tell a customer what's wrong with their vehicle, but it's a whole other thing to have them truly understand what you found and what you recommend. With digital inspections, you are empowering the customer and enabling them to be that much more knowledgeable about their vehicle. From that education comes trust in your shop, which leads to an overall better customer experience.
5. Courtesy Reminders
Customer service shouldn't stop after the transaction is finalized and the customer has left your shop. Before a customer leaves, be sure to have them schedule an appointment for their next visit, so they can leave knowing when they'll need to return. In between that time, send courtesy reminders to the customer to help them keep their next appointment top of mind.
Inconvenience, distrust, and unawareness are large parts of why many people don't get their vehicles serviced on a regular basis. Through creating an enjoyable, easy, and transparent experience for your customers, you can be sure that you've provided them top notch customer service and ultimately bring in more customers to your auto repair business. Focusing on customer service will increase auto repair shop profits. Let our team help you serve your customers better.
Related Posts:
What Customers Are Looking For In Auto Repair