Benefits of Text Message Software | BOLT ON TECHNOLOGY
January 02, 2019 / Automotive Software, ProCall, Digital Multi-point Inspections, Mobile Manager, Mobile Technology, Mobile Manager Pro

Choosing the most effective way to communicate is essential for your business to operate and get things done. Today there are so many ways to communicate with customers, but only one rises above the rest in efficiency—text messaging. The benefits of text messaging are hard to ignore and many shops are making the switch to text message software.
Benefits of Text Messaging Software
Text messages get read.

On average, 98% of texts are read within 15 minutes of receiving them, and there is an average response time of only 90 seconds!

This saves your repair shop from waiting for customers to respond to time-sensitive repair recommendations.

Text messages are personal.

91% of all U.S. citizens have their cell phone within arm's reach 24/7.

This means that when you text your customer their digital inspection report, they open it within minutes, see your technician's repair recommendations, look at pictures of their vehicle, and respond!

Text messages are saved.

More often than not, people aren't deleting texts as they're read. The average American saves texts for up to 30 days. Plus, customers prefer texting anyway.

This means that your digital vehicle inspections are saved too! Customers can revisit recommendations they might have opted out of and reconsider if they notice something wrong with their vehicle.
These days, automotive repair shops can't survive without implementing a text messaging software. To put it into perspective, let's break it down with an easy example—labor rates. Say your shop's labor rate is $122 an hour, and the cost—in repair authorization wait time—for a 6-minute text message reply costs the shop $12.20. Now, compare this to more than $150 for the 1 hour and 17 minute average response time for customers who are called regarding necessary repairs. Our research has shown that shops implementing texting communication receive responses in 30 minutes or less on average—saving your shop time and money!
Related Post: Tips to Increase Auto Shop Revenue
Texting a Digital Vehicle Inspection Report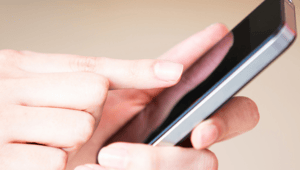 Digital inspection software like BOLT ON TECHNOLOGY utilizes text messaging capability to make your shop's communication more efficient. With the use of text messaging and digital vehicle inspections, not only are you being more transparent with your customers and building that trust, but you're also opening up new opportunities for your shop to
Educate customers with photos

Send pictures and video right to your customer's phone and give them the ability to see for themselves what's going on with their vehicle. By giving customers the power to see damage for themselves, they are more trusting and open to repair suggestions.

Add notes and draw right on the photo to draw attention to the issue and offer explanations and recommendations.

Upsell customers

Keeping a detailed history with photos of past inspections helps to reasonably upsell customers. You can show them changes or wear and tear that has happened since their last visit in order to upsell something they might not be aware of.
Implementing a digital inspection software with text messaging capabilities is the best way to stay competitive in the industry AND improve the relationship you have with your existing customers. Building trust is one of the biggest struggles in the automotive industry and with the use of text messaging software, you can open up the lines of communication, involve and educate your customers, and improve the efficiency in your shop.