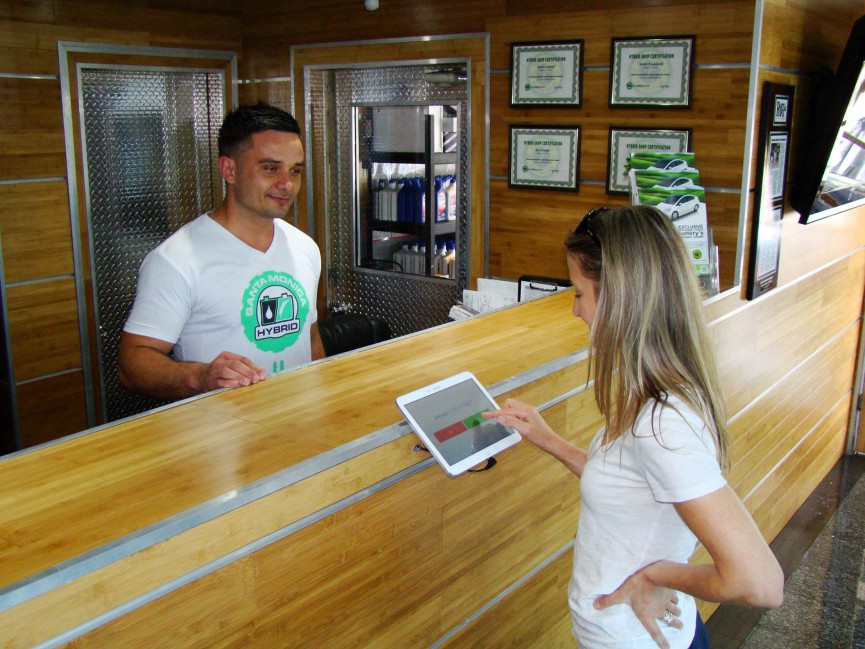 Martin Kruszelnicki has the "greenest" auto repair shop in all of Santa Monica, Calif. Kruszelnicki, the Chief Technology Officer of Santa Monica Hybrid – The Hybrid Shop, attributes his shop's use of BOLT ON's shop management software as one of the reasons the city of Santa Monica selected his repair shop from a pool of 19 contenders to win the 20th annual Sustainable Quality Awards.
Santa Monica Hybrid – The Hybrid Shop won the Excellence in Stewardship of the Environment award.
"Using Bolt On Technology we are able to save thousands of pages of paper and printing every year," he said. "Customers love the paperless check-in system and our team enjoys technician tablets and electronic inspections and being more productive at the same time."
Since May 2014 Kruszelnicki has been using BOLT ON's Mobile Manager Pro multi-point inspection tool, as well as Welcome Station, the first-ever customer check-in kiosk designed for the automotive repair industry. The fully wireless software solutions, which feature digital signature capture, text and emailing of customer vehicle inspections, photos and more, enabled the shop to go completely paperless almost a year ago.
"We have no paper," he said, adding that everything is emailed to customers. "We have no invoices anymore."
In a community where "everything is green," the Welcome Station kiosk is effective because there's "no environmental waste. Having less paperwork is very good for us."
All of his customers are using the kiosk – which greets customers, asks them to update their contact and vehicle information and suggests both recommended and weather-related services – to check in for service.
In the rare instances when a customer asks for a paper invoice, Kruszelnicki said it's printed on 100 percent recycled paper.
From his Santa Monica location, Kruszelnicki runs 405 AUTO European Cars Specialists and Santa Monica Hybrid – The Hybrid Shop – two entities under the same roof. Both businesses use the same auto repair software, he said.
Kruszelnicki's shop is also part of the Santa Monica Green Business Certification Program. It will be the first auto repair business to become a Certified Green Business in the coming weeks once that process is finalized.