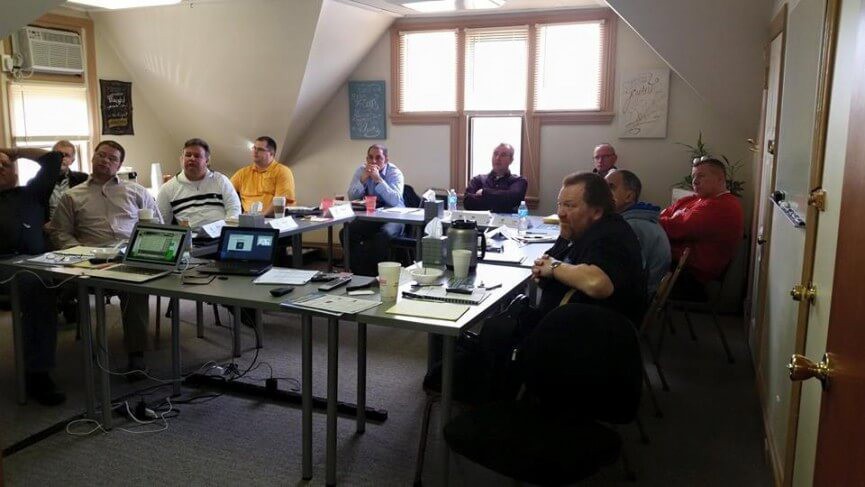 Mike Risich, BOLT ON founder and CEO, showed a dozen premier shop owners the ins and outs of fully wireless digital vehicle inspections during a mastermind workshop held at the ZAC Elite Group (Zerambo Automotive Consulting) center in Lansdowne, Pa. recently.
Risich shared how shops can drop the "boat anchor" otherwise known as their desktop shop management system in place of auto repair software that allows technicians to meet customers at their vehicles to begin multi-point inspections.
The shop owners, who represent pinnacles of the independent auto repair industry with annual business ranging from $500,000 to $750,000 a year – and in some cases running multi-million dollar businesses – were all interested in learning more about BOLT ON's game-changing automotive software solution, particularly Mobile Manager Pro.
"They loved the product," Zerambo Automotive Consulting founder and CEO Chuck Zerambo said of shop owners. "The reports that I got back were very positive. They loved the fact that it is a true integration as a push/pull kind of connection."
The ZAC Elite Group shop owners, who traveled from Nebraska, Kentucky, Ohio, Florida and New York to attend the greater Philadelphia area workshop, said they liked Mobile Manager Pro's benefits.
Owners told Zerambo that they could see how the VIN scanning and decoding tool – which offers license plate decoding, the ability to add canned jobs, canned recommendations and customizable multi-point inspections in addition to text messaging, digital signature capture and more – would "make a significant financial impact" in a shop's revenue generating opportunities.
Zerambo, who worked for nearly 20 years for Snap-On and Mitchell 1, knew Risich prior to his founding of BOLT ON.
"He's always been cutting edge and progressive and trying to figure out the next way to help a shop owner on the road to success," Zerambo said. "He's got a million different ideas going."