BOLT ON & Elite Join Forces
November 02, 2018 / News & Events, Auto Repair, Recruitment & Training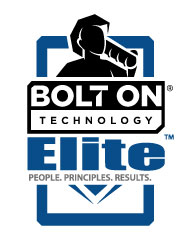 BOLT ON TECHNOLOGY and Elite Announce Education Partnership to Enhance Efficiency and Processes of the Auto Repair Industry
As "Best Practices" Leaders in the Aftermarket Industry, the Companies are Marrying Award-winning Technology and Shop Management Training & Coaching to Make Shops Stronger, More Successful
Southampton, PA, October 30, 2018— BOLT ON TECHNOLOGY, an automobile service-technology company, and Elite, a shop management training and coaching company, have partnered to further modernize and evolve the automotive aftermarket industry by making auto repair shops more successful through a combination of tech-enabled shop operations software and training for streamlined management.
The BOLT ON and Elite partnership will deliver cohosted webinars for shop owners who want to invest in their businesses with topics including Finding Hidden Profits in Your Shop's Numbers, Tips on Hiring the Superstars, Building Trust Through Digital Vehicle Inspections, Employee Management Made Easy and, in an upcoming webinar, 'Why DVI? The Advantages of Digital Inspections' on November 13.
The pair is plaining at least six more webinars in 2019.
"The key to fulfilling our mission is making every resource available to our customers that will improve their business," says Mike Risich, founder and CEO of BOLT ON TECHNOLOGY. "We're extremely excited about our partnership with Elite because the best solution for a shop that wants to grow is not just to train management or implement new technology, but to utilize both."
BOLT ON and Elite will elevate the auto repair industry by making it more sophisticated, attractive to a new generation of shop owners, perpetuating ethics-based business practices, and overall creating better opportunities for success. The valuable technology and education provided by the companies will give shop owners the critical tools needed to improve car counts, AROs and customer trust.
BOLT ON provides an award-winning suite of shop management products that makes shops more attractive to prospective employees and customers. Each tool helps shops operate efficiently by streamlining scheduling and updating customer information, producing more accurate reporting, strengthening customer communication through digital inspection capabilities and allowing managers to stay on top of business performance. Elite provides shop owners premium training in business practices such as recruiting courses, marketing courses, phone skills and sales training, peer group meetings and comprehensive coaching programs where every Elite coach is the past or present owner of a very successful auto repair business.
"We're proud of our partnership with BOLT ON TECHNOLOGY because of all the synergy between the two companies both in our cultures and overall goals," says Bob Cooper, founder and President of Elite. "Our belief is that every shop owner needs both the right people and the right systems to reach their potential, and this partnership helps them achieve both objectives."
About Elite
Elite was founded in 1990 with two primary goals in mind: To help shop owners build more profitable, successful businesses, and to give back to an industry we love. Elite's services help shops identify business challenges, and improve in the areas of sales, marketing, employee management, recruiting and all facets of shop management so that they may reach their full potential.
Elite hires only coaches and trainers with extraordinary track records of success, who share these goals and have the same passion for making this industry a better place by improving the lives of shop owners, their employees, their customers and their communities.