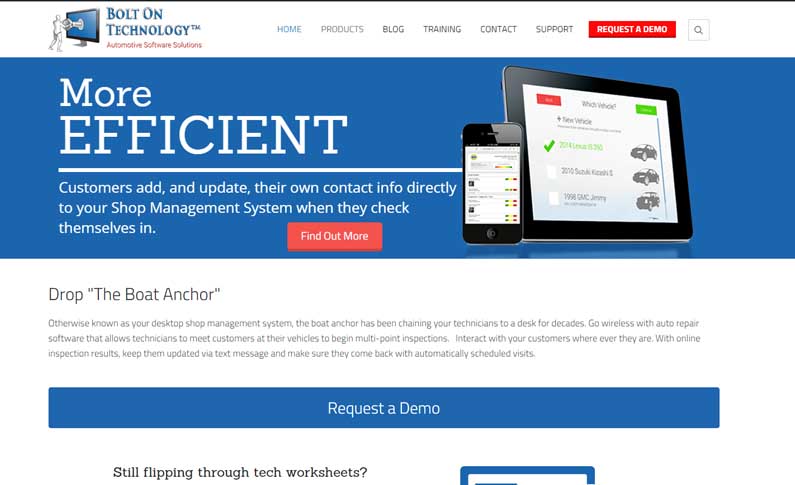 BOLT ON TECHNOLOGY is pleased to announce the launch of its newly-redesigned website boltontechnology.com. Along with a more contemporary design, changes have been made to the site-wide navigation to help auto repair shops find the information they need faster.
New Website Offers Enhanced Product Pages, Knowledgebase, and Live Support
Highlights of the new site include a robust Products section with information on all of their software, a sleek new blog layout, and the Live Support feature, which was brought over from the original site. Live Support enables customers to connect directly to BOLT ON's technical support, giving the engineers direct access to the machines. The best feature is the new Knowledgebase, giving users a user friendly guide, and allowing them to walk through all features step-by-step.
"Our purpose is to help shops be more efficient, be more productive, and look more professional," BOLT ON CEO Michael Risich. "The new website is passing that opportunity to shops around the world. We're already seeing positive results from the new design."
The new boltontechnology.com/ rolled out mid-January 2016, with expansions planned throughout the year. Additions will include a video "how to" integrated with the knowledgebase, product demonstration videos, and a live chat with sales representatives.
About BOLT ON TECHNOLOGY:
BOLT ON's software transforms the typical independent auto repair shop into a well-oiled, franchise-like machine. The company, which got its beginnings in the back of an auto repair shop, entered into a strategic partnership that caused its growth to skyrocket. In 2012, Bolt On licensed its technology to industry-giant Mitchell 1.
Nominated as one of the 'Best Places to Work' in 2015 (Bucks County Courier Times) and winner of the 'Fastest Growing Companies in the Region' Award in 2014 & 2015 (Philadelphia 100), and the PTEN Innovation & People's Choice awards in 2015 for their ground breaking Mobile Manager Pro software, BOLT ON is quickly becoming the authority in automotive software development.