BOLT ON Wins Top 100 Fastest Growing Companies Award ...Again
October 19, 2015 / Community News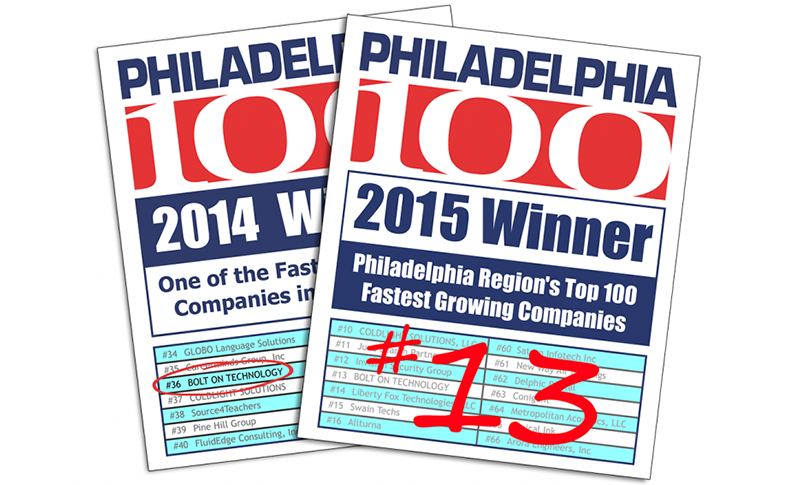 We've won the fastest growing companies in the Philadelphia region award for the second year in a row—2014 & 2015.
This past Thursday, (October 15th) the Philadelphia 100 organization honored the top 100 fastest growing companies in the area by acknowledging and awarding the businesses with consecutive financial growth for at least the last 3 years in a row.
Among attendance was our fearless leader (and CEO) Mike Risich who was presented the award and top 13th ranking – out of the 100 winners. This is an increase of 23 spots higher than our 2014 award for 36th place.
"It's an honor to be a part of the Philadelphia 100 organization and to be named alongside such great companies. I want to thank my team and our BOLT ON community for their continued support. Thank you so much."Michael Risich, Founder & CEO
About Philadelphia 100
In 1988, Philadelphia 100 was started by the Wharton Small Business Development Center, The Entrepreneurs' Forum of Greater Philadelphia, and the Philadelphia Business Journal as a way of acknowledging a new standard of excellence for entrepreneurial achievements within the region.
Since then, Philadelphia 100 has become one of the most sought after awards in the area and is comprised of some of the most successful companies within Pennsylvania, New Jersey and Delaware locations.
To learn more about the award, or information on how to enter, check out the Philadelphia 100 Winners.