Digital Inspection Myths Debunked
June 13, 2019 / Revenue & ROI, Auto Repair, Digital Vehicle Inspections

Change can be scary for even the most open-minded auto repair shop owner. The new trend of utilizing digital inspection software in automotive repair shops isn't met without its own push backs from shop owners. Our goal is to help shops overcome some of those initial fears and embrace the new wave of technology entering the automotive industry.
Resisting Technology in Automotive Industry
Vehicles are one of the original, most progressive forms of technology, yet the industry, as a whole, is oftentimes resistant to growing alongside of it. Technology, in its simplest form, is meant to increase efficiency by automating daily tasks and routines. Digital vehicle inspections help to digitize a shop's inspection process - helping to scale their efforts and communicate more effectively with their customers. Despite the increasing popularity of digital vehicle inspections, there are still many reservations holding shops back from committing to a solution.
"It's how we've always done it!" Sound familiar?
We don't disagree that change can be intimidating, especially when that change involves new technology. But before you say no, we're here to debunk the popular digital vehicle inspection myths that some shop owners get hung up on.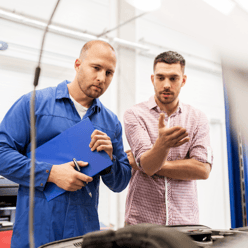 1. "Too Busy to Make the Change"
There's no denying that shops are busy. From open to close, shops deal with all different types of customers with a variety of needs for their vehicle. Taking the time to implement a whole new process would indeed take some time to set up, but how much time could you save in the long run? Adding a digital vehicle inspection process to your shop may only take an hour or so and will actually save you time in your day-to-day activities.
The BOLT ON support team excels in efficiently walking shops through the set-up process and teaching them how to use digital inspections along the way. If there are ever any questions, we're always here to help! You weren't too busy to program your new tv, or even set up your last smartphone—and didn't they both add value to your life? Setting up your new digital inspection and shop management software is the same way.
Related Post: Ways Technicians Can Convince Auto Repair Shop Owners They Need DVI
2. "Need to Learn It"
Everything you know now, you had to take the time to learn at some point. As humans, we never stop learning! Whether it's a new tool designed to make repairs more efficient, or a new way of performing tasks, we're constantly looking for better ways to do everyday activities.
When's the last time you bought a new piece of equipment in your shop? Be it a new computer, a new lift, new tire balancer, whatever—you had to learn how to use it! So why is this any different? It's a new tool designed to make your life easier. Look at all the equipment you're using now that shop owners didn't have years ago.
3. "Costs too Much"
However you spin it, implementing digital vehicle inspection software is an investment—not just money, but time as well. Sure, learning and getting trained on new technology takes time—but what's the benefit to your shop? Auto repair shops improve their communication and build a new level of trust with their customers.
When customers enjoy their experience, your shop will grow online reviews which gives you the opportunity to boost SEO and be found by potential customers. Everything comes at a price, and the value your shop will see when you start using digital vehicle inspections, it will absolutely worth it.
4. "Where's the Value?"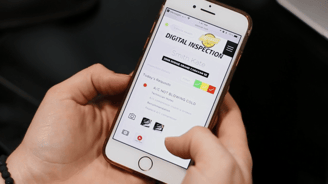 The value is in every inspection, every text message, every online payment, every positive review, and every audible "wow!" from your customers. It's in every aspect that will take your shop to the next level in performance, customer service, and return on investment. Soon, average repair orders begin to increase as customers up-sell themselves on recommended services. With every photo, video and recommendation shared in digital inspection sent via text to customers, gives them more power to make educated decisions on their vehicle.
Your techs become more efficient than ever because customer communication takes minutes instead of hours. No more missed calls and unanswered voicemails. Customers are able to send approvals immediately and pay via text. Their ROs are automatically marked 'paid' so you can focus on more important matters - like the next vehicle coming into the bay. You're earning more positive reviews because the customers are so impressed with your level of transparency and now understand why they need these suggested repairs. They trust you to make the best recommendations for their vehicles. The value lies in every nook and cranny of the digital vehicle inspection process.
5. "We Don't Want Customers to Know That Much"
What if your doctor said: "Well, we don't want Mr. Jones to know everything about his diagnosis." That would be RIDICULOUS! Knowledge is power. The more your customers know and understand the health of their vehicle, the more empowered they'll feel to make the best decisions. That also mean they will be more likely to perform preventative maintenance during their visit, rather than ignoring a problem until it becomes a catastrophe - and a hefty bill.
Using pictures and videos in your digital vehicle inspections educates the customer. It's the difference between trying to convince them they need new tires and having them agree that it's the best decision because they've seen the tread and understand the dangers of driving on balding tires.
For more information on transparency at your shop, read our blog Ethical Sales and Full Disclosure in Auto Repair.
Implementing Digital Vehicle Inspections at Your Shop
There isn't a comment or complaint we haven't heard or debunked—and there's no comment or complaint that can convince us that implementing digital vehicle inspections at your automotive repair shop won't boost your shop's performance and revenue. Don't believe us? Request a demo and see just how easy it is.