How to Up-Sell Service Appointments at Your Repair Shop
March 07, 2019 / "Auto Repair Shop", "Repair Shop Software"

As a seasoned automotive repair shop owner, you know by now that it costs more to win new business than it does to capitalize on the repeat customers your shop already has. Think about your customers and their spending habits. Do they only come to you when something is wrong? Or are they proactive with preventative maintenance and addressing early warning signs of potential issues? Knowing your customers' repair spending habits can play to your advantage when it comes to up-selling recommended services and repairs.
Digital Vehicle Inspections and Up-Sell Opportunities
We've talked about how using a digital inspection can help your shop run more efficiently and offer customers an unparalleled level of transparency—but how can using digital inspections also help to up-sell customers?
1. Pictures can help to explain 'the why'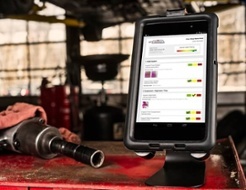 We know a picture is worth a thousand words—but it's also worth some money, too. Showing your customers their vehicle's current condition by comparing before and after or time-lapse photos can help educate them on needed repairs or future recommendations.
Learn how photos improve digital vehicle and customer communications.
2. Videos with audio
The audio portion of videos can also be used to tell a more detailed story. Many shop owners can relate—customers can't always communicate the sounds they're hearing from their vehicles accurately, so audio confirms their suspicions and gives the technician a better understanding of what's wrong with their vehicle.
3. Develop a continuous history of the vehicle
Vehicles and their parts age over time. Show how the brakes and tires wear from one visit to the next. This prepares the customer in advance for the financial requirement that will be needed to address the issue on a future visit.
4. OEM service intervals
Up-sell service based on the OEM recommendations. Consistency in doing this better prepares the customer for work that is due. Both OEM and inspection history recommendations can be used to set the customer's expectations for their next appointment. Again, building that continuity and history with the customer will help you develop a trusting relationship, resulting in more sold services.
5. Educational invoices
Providing customers with other forms of documentation, such as repair and service receipts, when they pick up their vehicles that explain recommended future services that are due on the next visit will also help up-sell the customer on work.
While these tips might not work for everyone (we're sure you can think of the few stubborn customers who don't want to spend a cent more than they were anticipating), for those customers who trust your team, and care care ab investing in the overall health of their vehicle, these tips will help your technicians up-sell on services that your customers will find valuable.