Gauge your KPIs and missed goals with our new Horizon Dashboard
October 16, 2017 / Mobile Manager, Horizon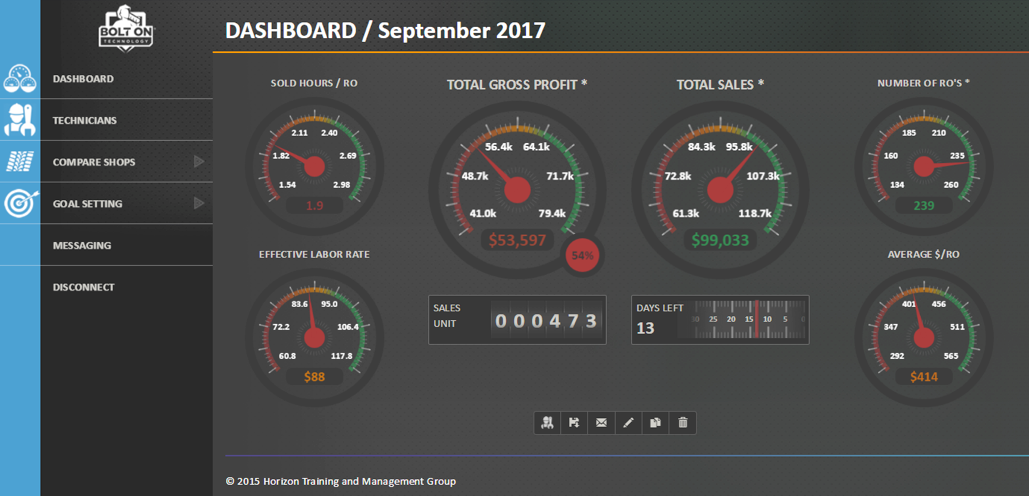 It's time to accelerate your business into new horizons.
We have introduced yet another tool to help improve your shop's bottom line. This is kind of a big deal for shop owners, so this is one read you don't want to miss.

Do you ever wonder how your shop is performing? How your techs are doing in the shop? Well, now you can stop wondering, and start knowing! This new dashboard allows you to measure almost every aspect of your business.

*If you want some more in-depth info, see it in action.
What is the Horizon Dashboard?
BOLT ON has just joined forces with Horizon: but what does this mean for you? Using the power of the dashboard, you can now gauge how well your shop performs on a daily basis. It's the ultimate management tool. See it live in action here.
The Horizon Dashboard digs deep into your business to give you the finest details on how your shop is running. Using easy-to-read meters and graphs, you can get a quick overview of your shop's processes with a quick glance.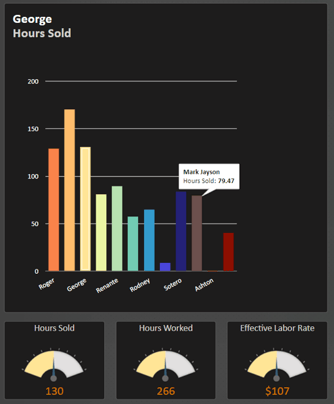 Digging deeper into this information is just a few clicks away.
"It tells you what you're doing well and what you're not doing so well," said Frank Dragoni, Director of Business Relationships for BOLT ON. "But what's different about it is the fact that this system gives you recommendations and corrective measures on how to fix or improve the areas needed."
Yes, not only does the Dashboard show you the good and the bad, it gives you access to solutions that will fix your issues, unlike other programs that just deliver the bad news.
If you really want the numbers to see how your shop is doing, this is a feature for you. But don't take our word for it, look what Bob Pereira the owner of Midas Hawaii says about the Dashboard.
"I highly recommend that anyone wanting to run a successful shop use the Dashboard to its fullest potential. The more you use it, the more it gives back."
"It allows the shop owners to set goals, whether they're weekly, monthly, or yearly. It's all there for you, and we provide the tools to make it possible," said Risich, Founder and CEO of BOLT ON. "We want our shops to succeed, and this is just another way for BOLT ON to help them."
*Works with Mitchell 1 Manager SE, Snap-on ShopKey SE, NAPA TRACS, and R.O. Writer shop management systems.
For more information on the Horizon Dashboard:

Or You can contact us: