Our Awesome Team Leader Wins the 2017 Executive Management Award
April 26, 2017 / Community News, Awards

We are pleased to announce that our Operations Manager, Ken Gilliam, was selected by SmartCEO to receive the 2017 Executive Management Award. The program recognizes the leadership and accomplishments of Philadelphia's management all-stars. Those who receive this award uphold the highest ethics, lead collaboratively and creatively, and enhance and support the organization's mission.
Ken has been a member of BOLT ON since it was in an 80 sq/ft locatio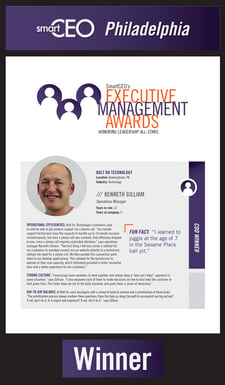 n in the back of a local repair shop. He was (and still is) an instrumental part of the growth that we have seen today.
It is because of our excellent employees that we have seen so much success. Ken represents only a fraction of the talent that we have behind the scenes here. Everyone from Sales to IT plays an important and intrinsic role in the success of the company and our goal to help customers achieve greater success and results. We hire so much potential because we also see the potential in all of the shops we serve.
We thank SmartCEO for recognizing pure talent and skill and we thank Ken Gilliam for his outstanding accomplishments and look forward to an even brighter future.
For further information on the award, visit SmartCEO's Executive Management Award page for more Info.