Major Report Pro Release Planned for Mitchell 1 Users
July 10, 2015 / Automotive Software, Report Pro, Mitchell1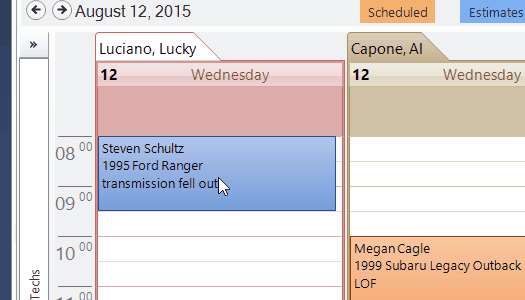 BOLT ON is preparing the release of a major update for Mitchell 1 customers who use our Report Pro software.
By mid-July Mitchell 1-Report Pro users will begin benefiting from a huge improvement to the Mitchell 1 stock calendar. With this forthcoming update, shops can book appointments by technician. This new offering has been a highly sought after feature request for Mitchell 1 customers for several years.
With the update, service advisors can now easily manage a busy workday and ensure technician availability, which helps to improve productivity and leads to shops becoming more efficient.
Since blocks are color-coded by type – appointment, estimate, repair order or invoice – shop staff can quickly and easily view by day, week and month. To reschedule appointments simply drag and drop the color-coded appointment blocks.
For now, the update is only available for Mitchell 1 customers. This feature is planned for other shop management systems in the future. To locate the calendar update, simply launch Report Pro, select the Tools tab and from there choose the Advanced Scheduler. The software will notify you of the update once it is available.
The latest Report Pro update follows our recent WorkFlow Manager addition, which takes Mitchell 1's Work In Progress screen and presents it in a much more visual way, enabling service advisors and technicians the ability to more efficiently manage their work flow.
Shops also use our Report Pro tool to help market their business with unique, easily customizable invoices with more than 100 options for customization, including a shop logo and color scheme, social media links and much more. The software solution, as its name suggests, also enables shops to create various reports, technician worksheets and more.
For more information, click here: Report Pro.