15 Million Photos Used to Sell More Services!
May 11, 2018 / Mobile Manager Pro

In just about 1 month, our shops have taken more than 1 million photos of their customer's vehicle issues while using Mobile Manager Pro. That brings our total to over 15 million vehicle needs captured and sent to vehicle owners to help educate them on why service is needed.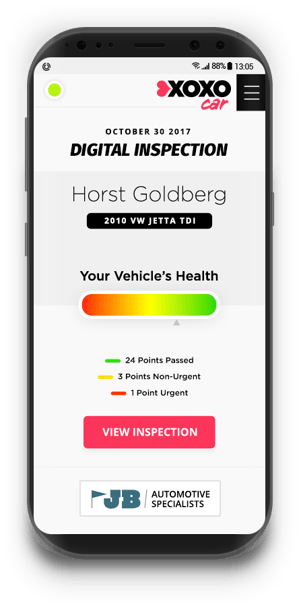 Congrats & The Power of Pictures
Congratulations to Auto Smart in Wichita, Kansas for taking this monumental, 15 Millionth picture! Scott Bahruth is the owner/operator of this seven-bay shop with four technicians servicing about 30 vehicles a day.
Mr. Bahruth, when asked about using digital inspections, replied, "love it!" "We have the technicians check the vehicle and send the inspection direct to the customer. Many times, the customers respond very quickly, looking for the estimate to approve."
Bahruth spoke about two of the biggest advantages of using digital inspections with pictures in his shop. "The first part of the inspection is a vehicle damage report. We have saved quite a bit of money no longer having customers blame us for the damage on their vehicles."
"Performing used car pre-purchase inspections is another great way we use them." Bahruth mentions. "We put the vehicle up on the rack and, in a short time, have a report that is shared with the customer." So, if there is something wrong they can haggle!
Again, congrats and we know Auto Smart will continue to grow and profit!
The Big 15 Million
15 million times, shops like yours have realized that pictures make selling needed services as easy as 1, 2, 3.
Auto repair shops using Mobile Manager Pro, have now shared over 15 million pictures with their customers. Each one was taken by a technician trained to look over each vehicle for safety and necessary services. Every picture accompanied with a clear description of the tech's findings and, when needed, a recommendation for the customer to consider.
15 million pictures have proven time and time again that educating customers empowers them to make quicker decisions, resulting in higher dollars per repair order for your shop.
Basically, a picture is taken every second of the workday. That's insane!
Time is money. So, every second, every minute, every hour you wait is costing you when it could be adding to your bottom line; one picture at a time.
We can assure you that, in the next few months, we will be telling you that number has grown to 20 million. Will your pictures be part of the count? We sure hope so!
Nearly
seven thousand shops
across the United States and Canada use our solutions, and it just keeps growing! Thank you for being a part of our growth.