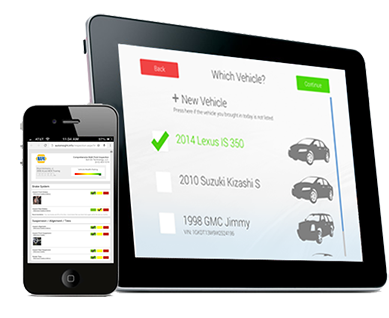 With Mobile Manager Pro, once a vehicle inspection is complete, the service advisor receives a notification via our team chat feature on the tablet, as well as the workstation. The wireless tool offers full, automatic integration into your shop management system.
Integration means that shops no longer have to re-enter information. It transmits automatically into your SMS.
The service advisor can open and view the inspection on the tablet, or, using our Report Pro automotive software solution, can use the Inspection Manager feature to review it on the workstation.
The service advisor is able to view all photos taken and attached to the inspection and can make changes to the inspection. With the click of a button, Message Manager, a software module included in the Mobile Manager Pro suite, sends the inspection and photos to the customer by text or email.
The customer receives the full-color report, which details in red, yellow and green the vehicle's overall health rating and shows what's wrong with the vehicle.
Your shop's logo, contact information and the customer's name and vehicle information will also be included on the report.
The customer will be able to see and review for themselves recommendations with specific details on how to fix the vehicle problems. Customers can click to enlarge photos and review accompanying recommendations.
For the shop, all recommendations automatically go into the vehicle tab where technicians and service advisors can view all recommendations. Staff can mark items as being in need of immediate repairs, or for less pressing needs, for the future.
The critical element for shops using customer relationship management products is that the data instantly – and with no additional effort on the shop's part – goes back into the database through real-time two-way integration.
If he or she chooses to do so, the service advisor can then build an estimate. Within a matter of minutes the estimate can be finished and sent electronically to the customer.
Click Mobile Manager Pro for more information.