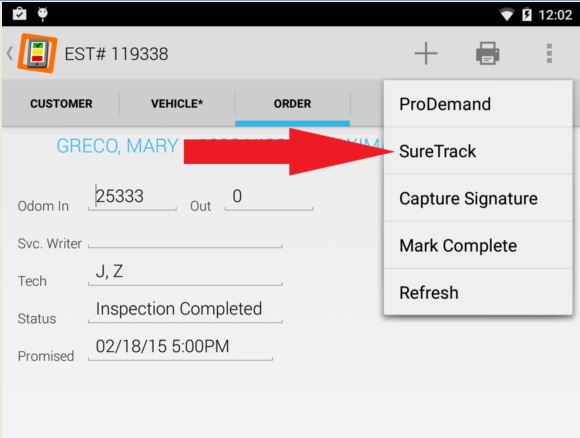 Diagnosing and fixing vehicles has gotten even easier for auto repair shops using BOLT ON's Mobile Manager Pro digital multi-point inspection tool and Mitchell 1 and ShopKey's SureTrack.
Our software developers this week finished development of a new major feature enhancement, making Mobile Manager Pro the first and only application to fully integrate with the SureTrack vehicle diagnostic tool.
Shops using BOLT ON's mobile technology have already been able to take advantage of time-saving VIN scanning and decoding, license plate decoding, canned jobs, canned recommendations, auto-populated inspection forms, text messaging and customer signature capture, among other efficiency-boosting features.
With this latest update and SureTrack integration, shops will be able to quickly search for the current vehicle's commonly replaced components, common symptoms and diagnostic trouble code search. In addition, the SureTrack article, which is displayed in the concern, cause, correction format, can be viewed and optionally added as a note on the repair order.
The industry's most comprehensive source of expert knowledge for professional technicians, SureTrack combines its groundbreaking all-in-one diagnostic information with a unique blend of intelligence and expertise to help aftermarket automotive repair shops increase accuracy and efficiency from diagnosis to completed repair.
SureTrack features repair timesavers and detailed parts replacement records all wrapped in an interactive community of thousands of repair professionals and expert technicians.
Just like Mobile Manager Pro eliminates the time that technicians would have spent handwriting multi-point inspections and entering the information back into the shop management system, SureTrack simplifies the vehicle diagnosis process. With SureTrack, the code that a shop's diagnostic tool provides when a check engine light is on can be searched to determine the concern, cause and correction associated with the code, ultimately saving time, improving accuracy and enhancing repair quality.
Integrating with SureTrack is just another way that Mobile Manager Pro customers can simplify their shop's daily routines.
For more information, call 610-400-1019.