Shop Owner of Motorcar Alternatives Shares His Success Story
November 20, 2017 / Customer Service, Customer Case Studies, Auto Repair, Digital Vehicle Inspections

It's the most significant change to the service industry in decades, correcting all that is wrong with the current procedures. That's what Mobile Manager Pro can do for your shop.
HOOKSETT, NEW HAMPSHIRE—Mobile Manager Pro is revolutionizing the automotive world by taking shops to a new level of transparency with their customers while modernizing it. Ric Morin, who owns Motorcar Alternatives in New Hampshire, said there's more than one reason to buy Mobile Manager Pro.
"Time clock, inspections, data entry, paperless, and integration to name a few," said Morin. "I'm a tough guy to please. I like innovation, but I don't want to change the way I do things to merge it into my life."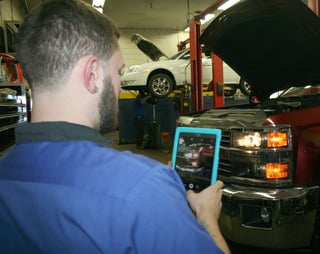 Mobile Manager Pro allows Ric to streamline his shop. Out with the paper, and in with the tablets!
"Automating the inspection process, whether you do it for upsell or checklists, really speeds things up. We used to do all of our inspections on paper. The ability to attach pictures and share in so many ways will blow you away," said Morin.
Pictures are just one of many positive changes a shop will see when using Mobile Manager Pro.
"Getting data into Mitchell 1's Manager SE isn't hard, but it can be time-consuming. Imagine a brand-new car with no vehicle data yet: walk out to the car in the driveway, snap a profile picture, scan the VIN, and enter a few fields and done. I average about .03 hours to complete," said Morin. "That's fast, almost six times faster than our old method."
Morin uses Mitchell 1 for his shop management system. BOLT ON works closely with the California based company. Morin said Mobile Manager Pro is the way to go.
"I made very few concessions to get this rolling. I wasn't sure the cost would equal the benefits at first, but I'm way beyond that now.," said Morin. "I've been posting some little issues with it, but none are deal breakers; just ideas to make an already great product spectacular."

To get your shop on board with Mobile Manager Pro: