BOLT ON Partners with TECHNET
September 11, 2017 / News & Events, Revenue & ROI, Auto Repair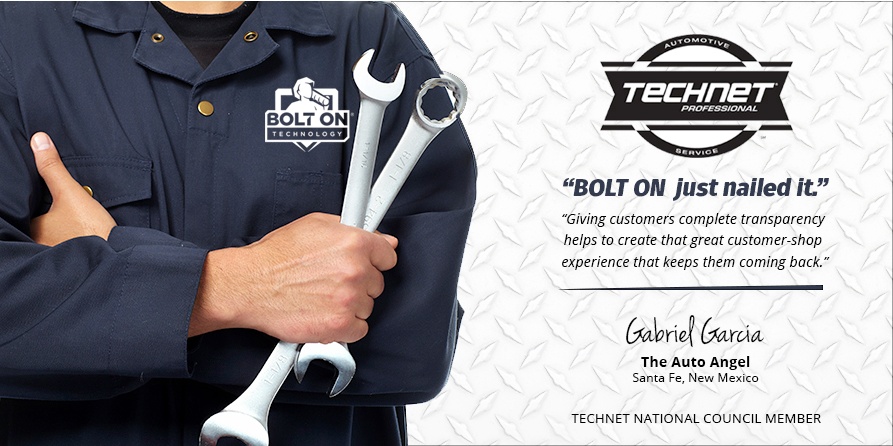 Santa Fe, New Mexico—When it comes to being competitive, TECHNET National Council member and owner of The Auto Angel, Gabriel Garcia, said it is his motivation to keep going as an automotive shop owner and be the best.
"I am constantly wanting to learn, help my customers, and be the best employer I can," said Garcia. "When it comes to technology, I take baby steps because I want to make sure it's going to benefit everyone; from the shop, to the car owners."
Garcia took his time and did his research before becoming a BOLT ON customer.
"I went around to different shops, those who had BOLT ON , and the other guys," said Garcia. "I wanted to see it, touch it and experience how they worked in real-time. Honestly, it was a no brainer, BOLT ON just gets it."

Increasing Customer Trust
Garcia knew it was an investment for him, as it is with any new tool. He wanted something that was going to show transparency, be factual, and easy to use.
"I can show that soccer mom who comes through the door why she needs to purchase brakes or get leaks fixed, because I can text her the photos with the digital inspection. Pictures speak volumes."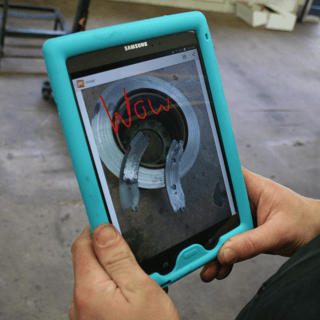 The Auto Angel has been around for 20 years, and Garcia still feels it is important to keep his customers and employees happy.
"I work with people and technology that are going to continue to drive my business and push it to the next level."
Garcia is not only a BOLT ON customer, but also a member of the TECHNET National Council.
"I was the first shop in the city to partner with TECHNET," said Garcia. "I want to work with companies who are honest and show transparency. For me, that is what TECHNET and BOLT ON stand for. I believe in them."
Garcia said there has been a learning curve to going all digital, but one that his customers are already raving about.

Effective Communication
"My customers love the text messages. They are easy to use, and people think it's phenomenal. The craziest part of it all, is that I know I'm not even using the software to its fullest capabilities yet."
"BOLT ON just nailed it. Giving customers complete transparency helps to create that great customer-shop experience that keeps them coming back."