Ever wish that you could really WOW your customers and get them to see your shop in a different light? What if we told you that one of the most powerful ways to engage your customers is already in the palm of your hand?
Ratchet+Wrench Management Conference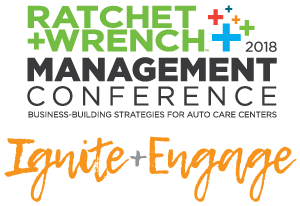 Shop Owners, Managers, Services Advisors and Customer Service Reps from across the country now have the chance to meet with BOLT ON's experts at the 2018 Ratchet+Wrench Management Conference from September 20-22, in Chicago.
You'll learn "How To WOW Your Customers" and rise above the competition by simply integrating the same mobile technology you use everyday.
Doctors, dentists, and even hairdressers have already transformed how they communicate and build trust with customers, so why does the auto repair industry have to lag behind? Join our very own Business Relationship Specialist, Frank Dragoni as he leads a Roundtable discussion teaching shops How to WOW Customers by:
Communicating via text message—the preferred method of consumers for quicker responses.
Viewing digital inspections on their smartphone. Let them see the "why" of service and repair with video and pictures.
Building a complete service history that includes videos and photos showing the vehicle's repair and maintenance lifecycle.
Automatically setting the next appointment in their smartphone calendar, sending a reminder text one week before the work is due, and allowing them to confirm the appointment easily.
Here's Where to Find Us:
Networking Break (after the Conference Keynote)
Day 1 - 9/20/18

Time: 1:00 – 1:20 PM
How To WOW Your Customers (Roundtable Discussion)
Day 2 – 9/21/18
Time: 3:30 – 4:30 PM
Live Demonstrations (at our tabletop booth)
Day 1, 11:00 AM - 4:15 PM
Day 2, 7:00 AM - 4:30 PM
Day 3, 7:30 AM - 1:00 PM
The Ratchet+Wrench Management Conference shows attendees how to boost auto shop performance and revenue with game-changing strategies; little did you know that one of the biggest changemakers was something you already use every day.