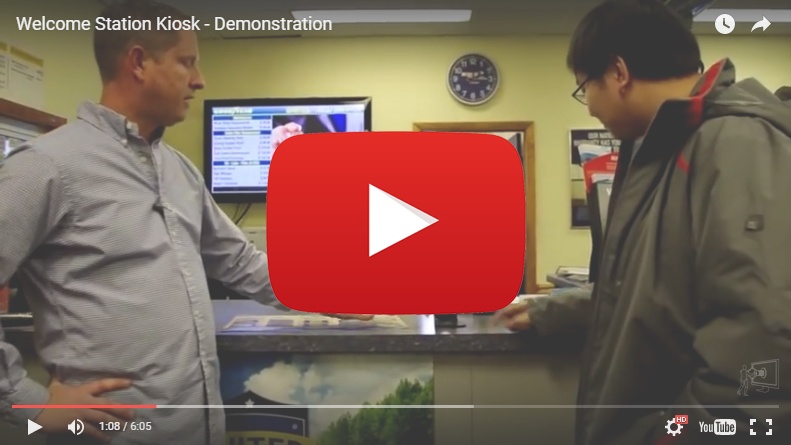 Our Welcome Station Kiosk frees up time for service advisors and empowers customers to accurately enter, verify and update their contact and vehicle information.
With this tablet-powered device, both new and returning customers can check themselves in at your auto repair shop and select services they would like to have performed.
To get started, Welcome Station asks customers if they have been to the shop before. New customers can enter their name, address, contact information and vehicle make, model and year. It's a great way to have the information accurately entered into the shop management system – without tying up shop staff.
Returning customers simply enter their phone number and click to confirm their identity. From there, customers can verify, update or add to their personal and vehicle information. For added convenience, shops can use the Mobile Manager Pro automotive software solution to take a photo of the customer's vehicle. When the customer checks in with Welcome Station, a photo of his or her vehicle is displayed as part of the check-in process.
As customers make their way through the touchscreen check-in, they can choose to add weather-related up-sell suggestions, including windshield wiper checks during rainy weather and tire checks during extremely cold temperatures. Subsequent screens prompt customers to select to add recommendations from previous visits and consider adding popular service suggestions – which can be customized at your shop.
After the customer chooses either yes or no for the various services, they simply hit next to continue.
Following service prompts, customers can add additional comments if they wish. This area is meant for notes related to vehicle symptoms and what may have prompted the customer's visit.
Customers can then sign the tablet, authorizing work to be performed and choose either the option of wait or drop-off for their vehicle.
All of the information the customer enters automatically updates inside your shop management system and enables the processing of a work order. The estimate is also put in the database.
Click Welcome Station Kiosk for more information.