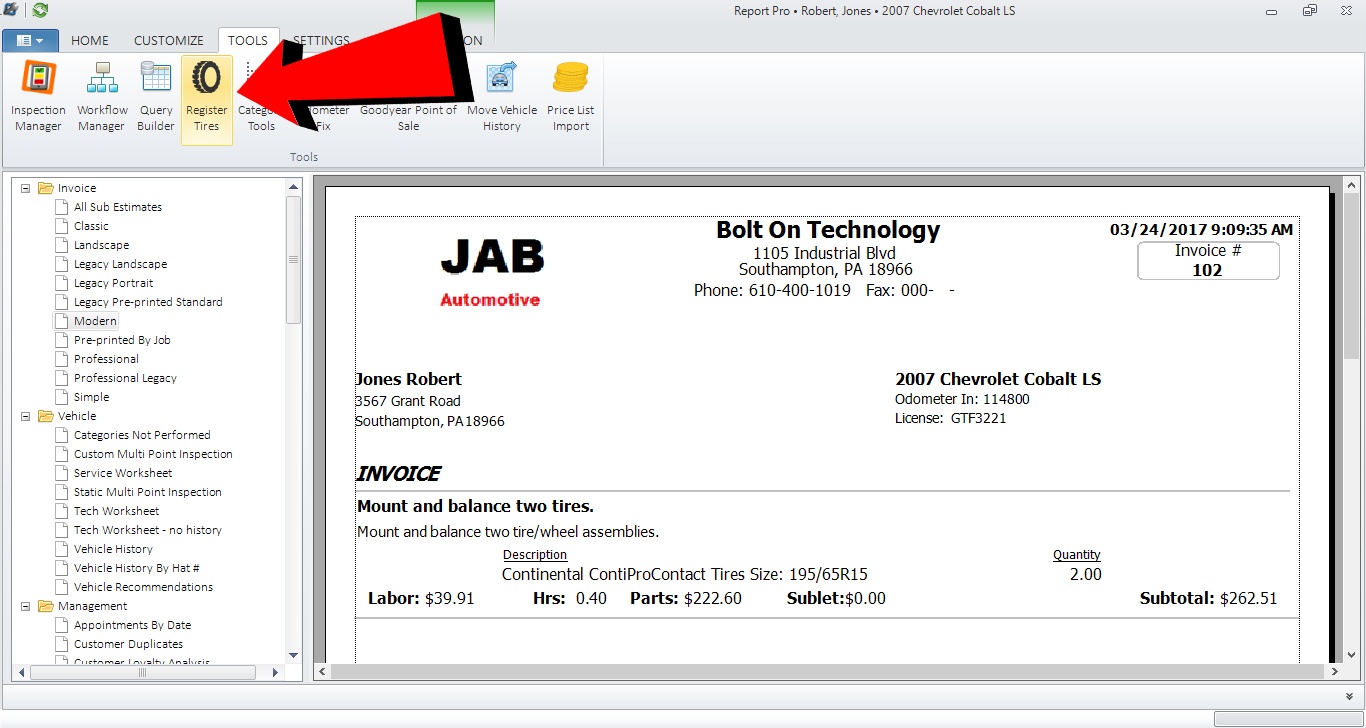 It's the Law!
All tires sold in the United States must be registered with the tire manufacturer.
The amazing thing about this statement is that many shops are not aware of it, or are simply not registering tires at all; breaking a Federal law.
Yes, Federal law 49 CFR 574.7 requires all new tires to be registered with the manufacturer in the case of a recall or anything else that may affect the quality of the tires. Here is a link to the law: https://www.law.cornell.edu/cfr/text/49/574.7
Not knowing that you are required to register tires is not an acceptable excuse if caught; neither is simply avoiding the registrations. No matter the reason, it is highly recommended that you follow the law.
Innovation Provides the Solution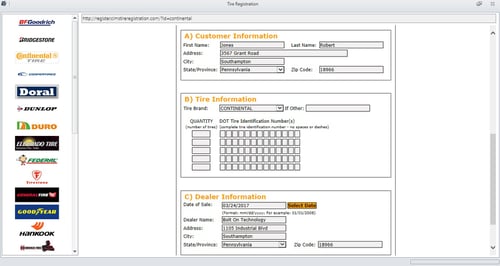 BOLT ON TECHNOLOGY saw this need and, through our constant innovation, built a solution that makes tire registration as simple as a few clicks. No more forms and no more trying to locate the manufacturer's registration website. Just use the Register Tires tool in Report Pro.
With an open work order in your management system:
Go to Report Pro->Tools->Register Tires.
Click on the Register Tire tool icon and, in the window that opens, select the desired tire manufacturer from the list of logos to the left side of the screen.
The registration page should open up in the main window with all of your customers' and shop's important information pre-filled.
Just enter the number of tires and their DOT codes, then click submit.
All done in 30 seconds!
Don't take it from us, take it from one of our customer's. John Slater, of Elsy Auto Repair in Newark, N.J., said that the Report Pro method of tire registration "makes it a thousand times easier."
Slater said the "one click deal" is far easier than the tedium of manual entry and constantly switching between two programs.
"If the software takes 10 seconds, manually it's going to take five minutes," Slater said. "It's like a night and day difference."
*For more information on the 'Register Tires' tool or any other Report Pro benefits and features, visit Request a Live Demo or call 610-400-1019 (press 2).