Top 3 Ways to Increase Labor Margin
August 14, 2019 /

Labor rates in repair shops across America vary. Based off of location, overhead rates, and profit to be made by the shop, sometimes, shops' labor rates are ineffective and aren't high enough to cover all those costs PLUS your technicians' salary. Finding your effective labor margin can be lots of trial and error, but these three tips can help raise your labor rate without upsetting your customers.
QUALIFIED Staff
When you hire the best, you can expect the best. The auto industry is noticing a shortage of available, skilled technicians which is causing shops to take on more and more inexperienced new hires. This means that your shop has to adjust for newer, younger techs. While we can't totally solve the tech shortage, you do have options when it comes to hiring. If a highly experienced tech isn't available for hire, look to younger techs who have undergone training at a tech school or an equally-qualified facility. They may be new, but oftentimes those programs are advised by automotive professionals, so students are getting the tools they need to prepare them for the workforce.
Hiring the best means your shop is performing the best and you can up your labor prices because you know your customers are getting quality work done to keep their vehicles safe and fully functional on the roads.
For more information on hiring top talent, download our eBook.
Proper Training
Your techs should never stop learning. Every year, newer technology is introduced to the automotive industry, which means best practices are evolving at a rapid pace. Techs, no matter how experienced, should always be looking to learn about the latest tools and technology being introduced. When you equip your techs with new knowledge, you're making your shop, and each tech you employ, more valuable.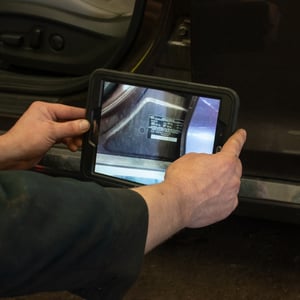 Equipment & Technology
When you have the best in your shop, your customer will see the results with every visit. Each time they bring in their car and you can provide them better and safer repairs because your shop is well equipped with the latest technology.
A shop's labor rate reflects its value, and when you set your shop up for success, that value skyrockets. This goes hand in hand with training. Providing your techs with the best and greatest equipment will make them more valuable to your shop, and your customers. Equipment like the latest wheel alignment and balancing tool or digital vehicle inspections can allow your techs to perform at a higher and more efficient level.
---
Related Posts:
How to Increase Profit Margin in Auto Repair
How to Track Growth For Your Auto Shop