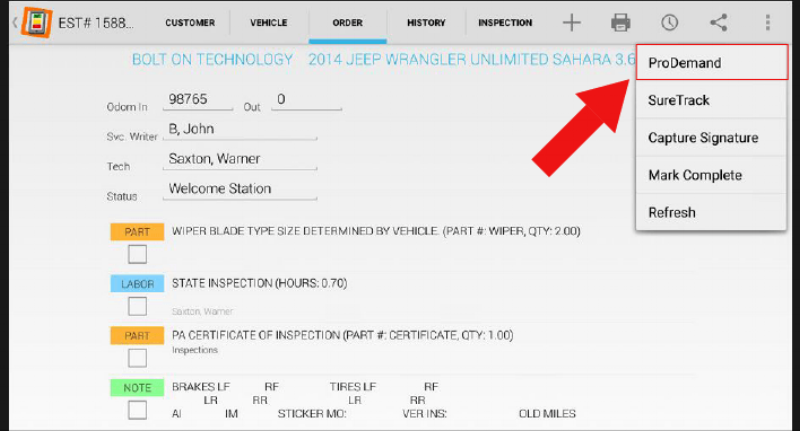 Here's how to carry your Oil Reset and TPMS Reset Instructions with you at all times, eliminating the need to travel back-and-forth every time your shop needs them.
Oil Reset
Does this sound familiar? Your shop services a customer's vehicle completely and they leave happy. One week later they're back in your shop, angry, due to the maintenance minder light coming on, wondering if you actually did the work you said you did.
TPMS Reset
Remember the days when wheel rotations were simple? Nowadays, not so much, due to Tire Pressure Monitoring Systems (TPMS) being required by law. Now, after each rotation, you must look up the proper method for resetting the system to recognize that the wheels are now at different corners of the vehicle, wasting precious time.
Mobile Manager Pro now gives you Oil and TPMS reset instructions faster and more conveniently with just a few taps of your finger. No more going to your shop computer, then through the many steps needed to access the information you need, trying to print it, and taking it back to the vehicle. It's all in the palm of your hand now.
How It Works
From the Work In Progress screen on the tablet, pick the repair order or estimate that you are working on. The document should open the Order Tab.

Tap on the vertical three dots on the upper right side of the screen.

Choose ProDemand from the drop-down menu. The Selection window will open.

Tap the Reset button at the bottom of the window. If the current vehicle has either TPMS or a Maintenance Minder light, the reset procedures will be shown.

Follow the directions to reset the lights.
*Works with ProDemand for Mitchell 1's Manager SE and Snap-on's ShopKey SE shop management systems.
Don't have Mobile Manager Pro? See a live demo (right from the comfort of your own computer) by clicking
Request a Live Demo
or calling 610-400-1019 (press 2).