Ways Technicians Can Convince Repair Shop Owners They Need DVI
April 22, 2019 / Digital Multi-Point Inspections, Mobile Manager Pro

You work in the bay, so you know better than anyone the struggles that hold you up, waste your time, or slow down your day. You know you need digital vehicle inspection technology, but how do you convince your boss? We've put together some benefits that you can use to sway your repair shop's owners about why they should invest in auto repair software for your shop.
SAVE TIME
As a tech, you're busy all day, from the time you get to the shop in the morning until the last car rolls out of the bay. And then you have the paperwork to be filled out and filed away on top of everything else—but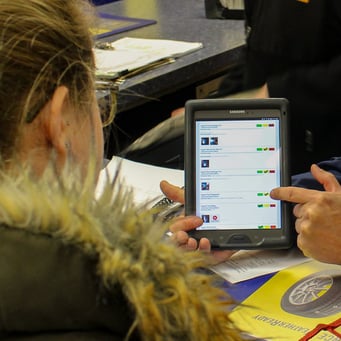 that paperwork can be minimized with digital technology. With digital vehicle inspection technology, your inspections are done faster, and they're all already organized and filed away on the computer system after they're done.
Incorporating DVIs into the shop can also speed up jobs by expediting approvals. Tired of waiting for a customer to get back to you so you can proceed? Have you ever been stuck in an endless game of phone tag? Digital vehicle inspections can help alleviate this issue and allow you to use your time more productively. With the ability to text approvals to a vehicle owner, they can more easily respond, giving you the answers you need at a quicker pace.
Increase ARO and Customer Trust
Digital vehicle inspection software is an investment that pays for itself. Shops that have implemented digital vehicle inspection software see an increase in their average repair order (ARO) by an average of 39%. With DVI, there is more opportunity to educate and upsell customers, which will lead them to feel more comfortable approving services that have been recommended. When the customer feels like they are in control of the decisions they are making for their vehicle, they come to trust a shop even more. That customer trust helps the shop increase repeat business, ensuring that more work comes through your shop's doors rather than the competition's.
BETTER COMMUNICATION
As a technician, it's essential to be able to send and receive information easily. With auto repair software, as a technician is assigned a job, they will receive a notification to their tablet. From there, they can access vehicle history and service requests, allowing the technician to quickly understand and digest information—which in turn allows them to begin a job as soon as possible.
DVI software is also a tool which enables a tech to paint a clearer picture for the customer. At times, it can be frustrating to communicate with a customer about the importance or necessity of a repair when they have little background knowledge about how their vehicle operates. With DVI, a technician can include pictures and videos to help customers better understand why they need a part repaired or replaced. Along with the pictures or video taken, notes and recommendations are also able to be sent. As a result, the customer will have all of the information they need to see the importance of technician recommendations so they can approve the work that needs to be done in a timely manner.
Adding digital vehicle inspection software to your shop will make your life as a technician easier. Implementing DVIs into your workflow allows you to be as efficient as you want to be, enables you to communicate effectively, and increases the overall ease of your position. Having the right tools to do your job is important, and digital vehicle inspections can become one of the most effective tools in your toolbox.
Related Posts