Ways Technicians Can Convince Repair Shop Owners They Need DVI
April 22, 2019 / Digital Multi-point Inspections, Mobile Manager Pro

You work in the bay, so you know better than anyone the struggles that hold you up, waste your time or slow down your day. You know you need digital vehicle inspection technology, but how do you convince your boss? We've put together some tips that you can use as selling points to the repair shop owners on why they should get auto repair software for your shop.
Save Time
As a tech, you're busy all day, from the time you get to the shop in the morning until the last car rolls out of the bay. And then you have the paperwork to be filled out and filed away on top of everything else—but that paperwork can be minimized with digital technology. With digital vehicle inspection technology, your inspections are done faster, and they're all already organized and filed away on the computer system after they're done.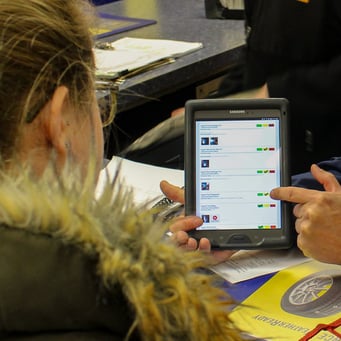 Save Money, Make Money
Digital vehicle inspection software is an investment that pays for itself tenfold. With DVI, there is more opportunity to educate and upsell customers because their information is all pulled up on a tablet upon arrival. You can refer to their previous inspections and point out work that was suggested and not done, and check the status of parts that were questionable on their last visit.
Better Customer Communication
It can be frustrating sometimes to communicate with a customer about the importance or necessity of a repair when they have ZERO knowledge about how their vehicle operates. With DVI, you can include pictures and videos to help customers better understand why they need a part repaired or replaced.
Ultimately, adding digital vehicle inspection software to your shop will make your life as a technician easier, and after discussing all the benefits, the shop owner will understand why it's such a good idea.