We Won the 50 Fastest Growing Companies Award for 2016 & 2017
January 04, 2017 / Community News, Press, Awards

We're happy to announce that for the second year in a row, we've been awarded by Philadelphia SmartCEO and Comcast Business as one of the 50 fastest-growing businesses in Greater Philadelphia. This prestigious award recognizes local businesses that have demonstrated significant growth in terms of revenue and employment over the past three years. All of the companies selected represent the future of the region's economy and embody the entrepreneurial spirit critical for leadership and success.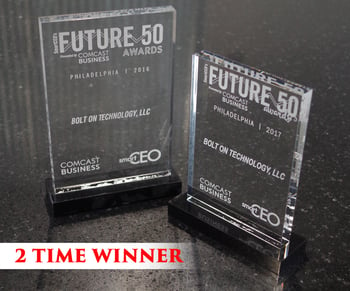 We are honored to be receiving this award again in 2017 and to be representing Greater Philadelphia as a region of continual growth and innovation. Since launching in 2008, we've experienced tremendous growth across the board. Our revenue has increased by 46%, and our employment rate has grown by 40% just this year alone.

Our BOLT ON family has grown by 17 new team members in the last year and continues to increase almost weekly. Growing into a team of automotive software experts is a step that has been both beneficial and necessary to keep up with the growing demands and expectations of our customers and partnerships.

We've also expanded our working space by over 8,000 square feet in 2016. The additional office space is being used to house our growing team, as well as support our new customer and partner training facility - more exciting news regarding our new training facility is coming soon!

*Mike Risich, Founder and CEO of BOLT ON TECHNOLOGY, will be attending SmartCEO's Hawaiian-themed gala at Drexelbrook in Drexel Hill on January 17th to accept the award. He is looking forward to celebrating this honor with all of the other winners from around the area.