There's a new hot topic tearing through our industry right now—Right To Repair. While it's not necessarily a new topic, it's currently causing many of us in the automotive sphere to stop and ponder the future. So what does right to repair mean for your auto repair shop, exactly? Let's dive into it.
What Is Right To Repair?
Basically, the goal of this legislation aims to grant consumers the ability to repair their property. Through Right To Repair,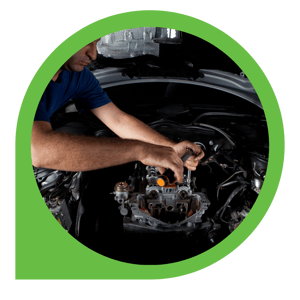 vehicle owners can gain access to the necessary information and documentation related to their vehicle. While we'll be discussing how this impacts us in the automotive industry, it should be noted that this debate also extends to items such as smartphones or farming equipment. The push behind this legislation is bigger than our corner of it.
The world is changing, and data is a huge component of the next step forward when it comes to vehicles. This fight isn't necessarily a new one. It's happened before, although in different forms. In the 1970s, The Clean Air Act required automobile manufacturers to make emission system information available. A similar situation occurred in the 1980s with the OBDII port. It was initially going to be closed, but there was a resounding call to create a standardized cord which would create greater accessibility.
Where Does Legislation Currently Stand?
This fight has been ongoing for quite a while at the federal level. Around the turn of the millennium, many bills were introduced under the Motor Vehicle Owners' Right to Repair Act. Ultimately this act wasn't passed, but the fight against manufacturer gatekeeping didn't die there. The Right to Repair topic sparked again a number of years later, and it began to gain traction in 2013 with Massachusetts' passage of the Automotive Right to Repair Law. But the matter isn't settled, even in Massachusetts.
In the first version of the bill, telematics data was excluded. With their recent efforts, proponents of expansion of the law are seeking to get vehicle owners a standardized open access data platform. As a result, owners would gain access to the mechanical data via an application on their mobile device.
To date, 20 states have introduced bills to strong-arm vehicle manufacturers into sharing the crucial information, but unfortunately efforts have been stalled as a result of the COVID-19 pandemic. Many legislative bodies have needed to turn their focus to addressing the effects of this global health crisis, even though the pandemic has made the need more dire as people turn to DIY to save money in this economy.
The Argument for Right To Repair
The need for access is an ever-evolving one as we move forward with technology. After Massachusetts passed their 2013 legislation, auto manufacturers nationwide agreed to make the wired diagnostics accessible. But now there are developments in how vehicles transmit information.
Manufacturers are trending toward relying on wireless, and the vehicle owner nor the independent shops have the ability currently to access that. Tesla, for example, is by and large a mystery to outside repair shops. Introducing or expanding existing legislation is the way to ensure everyone has the information they need.
The Argument against Right To Repair
The most prominent argument against Right to Repair legislation is security. Those in opposition are speaking up about potential cyber security threats. While a standardized system would level the playing field for vehicle owners and independent auto repair shops alike, it could potentially make vehicles vulnerable and unnecessarily put them at risk.
They assert that the endeavor to create a standardized system would create a single point of failure. Meanwhile, if every manufacturer has their own proprietary system, hackers would only be able to mess with that grouping of vehicles. In their opinion, diversifying the systems is a safeguard against widespread threats.
Where does this leave our industry?
While there may be 20 bills on the table in various states, truthfully only one needs to pass for change to take place. After 2013, manufacturers decided to apply the law nationwide. It's reasonable to think that this would happen again should a new or expanded bill pass in any of those 20 states. How quickly this might happen is anyone's guess at this point.
So what does right to repair mean for your auto repair shop? No matter where you stand on this issue based on the type of shop you operate, be it dealership or independent shop, this doesn't so much change our industry, but rather update it with the times.
Every time we've reached a point like this in automotive technology, we've collectively had this discussion, and it stands to reason we'll have this discussion time and time again. At the end of the day, we run shops because it's our passion as automotive professionals. While we may have opposing opinions, we believe it makes us stronger as an industry overall.