Shops have been doing inspections for as long as there have been cars, but they have always been recorded on paper. Digital vehicle inspections (DVI) are inspections performed by technicians using a tablet device to record the results. On some platforms, the inspection results are printed out and added to a shop management system (SMS) manually. The best inspection software will store the results and recommendations directly to the customer's profile.
The Problem with Paper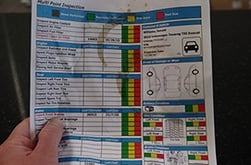 Paper inspections were a great way to get the job done ten years ago because they were the only way. Technicians would ignore the annoyance of disappearing clipboards, service advisors would ignore the illegible handwriting, and customers would ignore the coffee stains and thumbprints. Some shops would go as far as to rewrite the inspection to show the customer, then walk them out to the bay to look under the car and point out the issue.
The main issue with a paper inspection is no two inspections are created equal. A Big Mac made by a 16-year-old in Los Angeles tastes the same as a Big Mac made by a 36-year-old in New York, yet inspection forms will look completely different, even if they come from the same technician. Imagine how different inspections look coming from four different technicians. Now multiply that by four locations, and you start to get an idea of the magnitude.
"The main issue with paper inspection is no two inspections are created equal."
If you work in a shop, you may know a service advisor who "cherry picks" the services they sell. No one likes to hear the word no, and some services are easier to sell than others. Instead of suggesting the more expensive repairs, they only talk about the most pressing issues and let the customer know what they need to do to have the lowest ticket. They may think they are doing the customer a favor, but all they are doing is delaying the inevitable, and possibly pushing the customer to another shop once the issue becomes critical. So how do you solve these problems?
Digital vehicle Inspection Solutions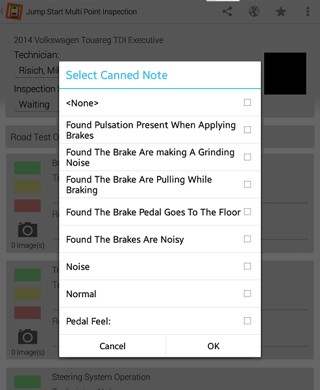 Digital inspections change everything. Using mobile technology, you can use customized inspections to do a simple tire report or a full bumper to bumper, multipoint inspection. The more you document, the more likely you are to make a sale.
At Nealey Auto Service, technicians go through the 50-point inspection process, marking any necessary repairs or maintenance and making notes in the designated section. He pays his technicians 0.3 hours for the inspection, which is usually all it takes to complete one.
"If I'm a tech, and I'm not getting paid to do a full courtesy inspection, I would see that as a burden on my day," AJ Nealey says.
Creating a digital vehicle inspection couldn't be easier. First, the technician enters a note about the part being inspected, then they put in a corresponding recommendation if it is needed. To speed up the process—and increase uniformity—some software will offer canned notes and recommendations. The next step is to choose a color to grade the part: Green = Good, Yellow = OK, & Red = Bad. Utilizing a color grade helps the vehicle owner better digest the inspection's findings.
"The Powerful Impact" of Photos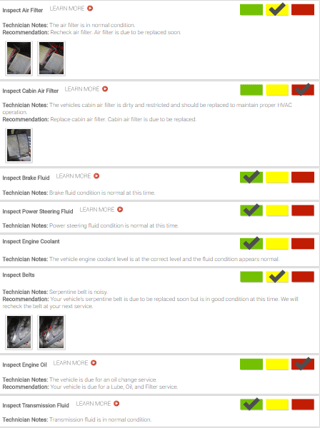 The last step is to take pictures of the part. "With the photos, we don't have to talk much. You know what they say 'a picture is worth a thousand words.' It's actually a silent service advisor. Our customers see the picture and it sells itself," said Superior Auto Repair owner, Mike Thorp. "Now that I have it, I don't understand why anybody wouldn't have it. It's actually a silent service advisor. (Customers) see the picture and it sells itself."
"The most powerful impact to the customer is being able to show them their car and what needs to be replaced and repaired," Bud Wildman of Precision Auto and Tire Center said. "When service advisers send a report that's well done, the questions are reduced, and the trust becomes very strong. The customer can recognize what we've done for them. The service advisors, as they sell the jobs, spend more time preparing the presentation, but they spend less time talking to the customer."
Since his shop began using Mobile Manager Pro, Wildman, whose shop won the Automotive Training Institute's Top Shop Award in 2014, said his average repair order has increased from roughly $380 to $510 with mobile technology. For new customers, that amount is often much higher, he said.
"Customers who can see for themselves what repairs are needed have been proven to overwhelmingly authorize recommended repairs."
For auto repair shops, photos create a greater level of transparency, which helps to improve customer confidence. Also, since vehicle condition photos are texted or emailed instantly, customers can see vehicle-related issues from their home, office, or wherever they may be. It's like visiting the shop remotely. After they've reviewed the inspection, they become better informed about the health of their vehicle, and more likely to approve more services next time.
Customers who can see for themselves what repairs are needed have been proven to overwhelmingly authorize recommended repairs. We have seen customers text an approval from their mobile device within 1 minute, in some instances. Putting the power in the customers' hands also lessens the need for the service advisor to push a sale.