Facebook and Google are constantly changing their algorithms, making it more difficult for auto repair shops to gain traction online. Direct mail can be expensive and traditional advertising nets little returns. So, what's a shop owner to do?
Using Invoices as a Marketing Tool
Use your shop's customer invoice to market your business. Compared to other ways of promoting your business, creating a unique, customized invoice is by far the least expensive, quickest and easiest method of sharing information about your repair shop to encourage repeat visits.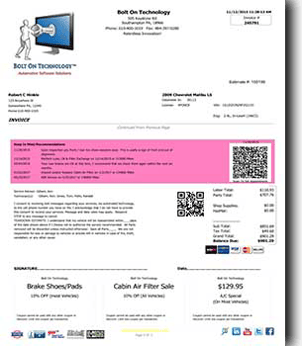 Tips for Getting Started on Invoice Customization
Including shop-specific information on your invoices is an effective way to not only spruce up the look of your bill, but to give your customers – especially first-time customers – a good impression of your business. Chris Lapierre of Attleboro, Massachusetts-based Lapierre's Auto Repair, uses the Report Pro auto repair invoice software to incorporate his shop's logo, as well as Facebook and Twitter links. "It makes it a little bit more personal," he said.
To make your invoices work harder for your repair shop, follow these 7 customization steps:
1. Choose a theme
Report Pro offers 10 different invoice choices. Themes can be tailored to best suit your needs and range from simple to more advanced options. By-the-job invoicing is popular in instances where shops want to give a breakdown on multiple jobs.
2. Add your logo
After your business name, website, address and phone number, your logo is perhaps the most important element of any invoice. It goes hand-in-hand with your shop's name as one of the main ways for customers to identify your business.
3. Don't forget color
Incorporating the color(s) used on your logo, signs and other related marketing materials helps to brand your business. Why go for black and white invoices when you can create more eye-catching colorful creations?
4. Get social!
Building your Facebook and Twitter followers just got easier with the inclusion of icons and/or links on your invoices. By putting this information at your customers' fingertips it will be easier for them to find your shop online and follow your social media pages.
5. Ask for reviews
Including links to review sites, like Google and Facebook, makes it easy for your customers to quickly and easily review your business. Reviews are important as most new customers will scour review sites and read customer reviews before choosing a business.
To learn more about the importance of earning honest reviews at your auto repair shop, read this blog.
6. Strengthen your brand with affiliates
Is your shop affiliated with a well-known auto parts retailer or auto repair leader? Including their logos on your invoice will help to build credibility with your customers, proving that your shop is reputable, in part, because of its partners.
7. Use coupons to build repeat service
Report Pro enables shops to include invoice coupons or provide package pricing for recommended services. Whether your shop chooses to discount the service is entirely up to you, but the appearance of a coupon gives customers the sense that they're getting a deal, which dramatically increases the chances of repeat business.
Customizing your invoices – the sky's the limit! In reality, these tips are just skimming the surface. Report Pro provides more than 100 options for customization.
To learn more, click here: Report Pro or call 610-400-1019.