Auto Repair Shops Embrace Paperless Technology
February 20, 2019 / Revenue & ROI, Auto Repair, Digital Vehicle Inspections

Is your automotive repair shop inundated with paper? Paper inspections, paper invoices…paper everywhere. It doesn't have to be that way. Our suite of add-on automotive software solutions fully integrate with shop management systems and enable repair technicians and shop advisors to carry out common paper-and-pencil tasks on mobile devices, dramatically reducing paper use.
With our mobile technology you can ask a customer to electronically give their signature in order to give the green light for repair order approval. From there you can then carry out a digital multi-point inspection of a customer's vehicle without writing down a single note.

The obvious advantages of going paperless include saving trees and helping businesses to operate with a more environmentally-friendly footprint and less waste. But by going paperless with our Mobile Manager Pro and Welcome Station Kiosk software solutions, your shop will also experience greater business efficiency, increased productivity, higher revenues, and more accurate data capture.
Why Vehicle Inspection Sheets Should Be Digital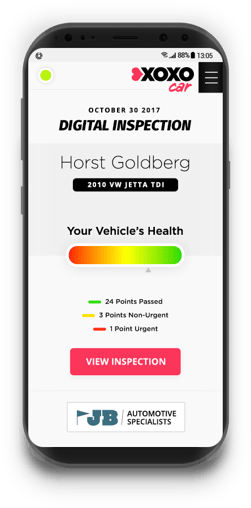 Paper vehicle inspections sheets are dead. They create barriers for shops' success and require technicians to write everything out and advisors to translate and copy, which can get sloppy and time-consuming. Paper vehicle inspections need to be filed away, yet remain easily accessible for future visits so techs can know the work history of the vehicle they're working on. These inspection sheets don't do the heavy lifting for educating your customers either. Instead, the advisor must relay and explain information which, compared to digital vehicle inspections, is ineffective.
Digital inspections make tech recommendations easy to read and understand. Techs can make specific recommendations to the customer by showing them exactly what is going on. Photos aren't only reserved for showing customers what's wrong with their car, though. They can also be used to show which items are currently good or which items are fine now, but may need service in the near future. Customers will be able to be better-educated on the "health" of their own cars, so to speak.
Digital inspections are immediately available to the service advisor and looking at past inspections and work history only requires a few clicks. In a matter of seconds, any technician can view a detailed work history to get a better understanding of what to look for when performing their inspection. They can sooner address issues that were discussed at the previous visit, and forecast services that might be needed next time in order to prepare the customer.

In addition, the Environmental Protection Agency estimates that Americans contribute to 85 million tons of paper ending up in the waste stream and more than 400 million ink and 100 million toner cartridges being dumped in landfills yearly. Add in the fact that the average U.S. office worker prints 10,000 pages of paper per year and the reality becomes increasingly
Benefits of Going Digital
Traditional repair shop functions such as vehicle inspections, estimates and the building of repair orders were, until recently, carried out in a tedious handwritten format. Tasks relied almost exclusively on a technician's ability to correctly write a 17-digit vehicle identification number, for instance, and for those symbols to be legible for the service advisor, who most likely had to enter the information into the shop management system.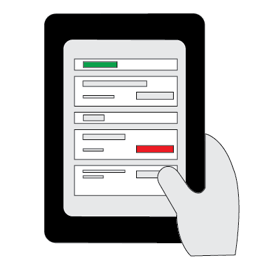 Now, with revolutionary mobile technology disrupting the automotive repair industry, technicians can, within seconds, scan and decode vehicle identification numbers, license plates and more. These digital capabilities mean paper-and-pencil inspections and repair orders are moving toward technological extinction. The need to have paper copies of automotive repair orders is decreasing as more and more vehicle owners prefer text or email notifications.

Mobile technology has helped repair shops easily cut 10 steps from their process, saving technicians several minutes per repair order and freeing up shop staff to handle higher customer volumes while keeping staffing levels flat.

Also, integrating digital capabilities with texting helps businesses to work more efficiently. By empowering the vehicle owner to easily flip through vehicle photos, estimates, inspections, work orders and more from their mobile device, customer approval time is reduced by more than 50 percent. Meaning your shop will waste far less time, and it is far less likely that your techs will have to remove cars from lifts while waiting for approval.


For an ever-growing number of the nation's 275,000 independent auto repair shops, going paperless not only makes good environmental sense, it also saves "green" in the process.

To learn more about our mobile technology, call 610-400-1019.