Eric Svedberg, a BOLT ON TECHNOLOGY customer since 2013, was recently profiled in Ratchet + Wrench for his success in growing his business using highly effective marketing tactics.

When Svedberg first entered the auto industry at the age of 22, he had little marketing expertise, and no real mentor to learn from.

"It was the school of hard knocks," he says.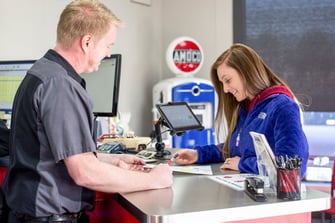 Yet, Svedberg was willing to be humble, gleaning tips anywhere he could. Over the years, the Virginia shop owner took classes at VISION Hi-Tech Training & Expo in the Kansas City area, picked the brains of fellow owners, and read International Automotive Technicians Network (iATN) forums voraciously.
He also wasn't afraid to borrow ideas. For example, Automotive Specialists' logo looks awfully similar to that of Boar's Head meat & cheese, a deli product of which Svedberg is a fan.
"I definitely wanted to learn from the best," Svedberg explains. "I took everything I could get, and then applied what worked for me."
Through all that studying and observing, Svedberg developed a guiding marketing strategy: the use of the 80/20 rule.
"So, on 80 percent, I feel like I'm marketing toward my existing customer base—to make sure that they're coming in, staying consistent. I'm seeing them two to three times a year. And then I'm always replacing, or adding to my customer base [by] 20 percent," he says.
---
Read the full story at Ratchet + Wrench