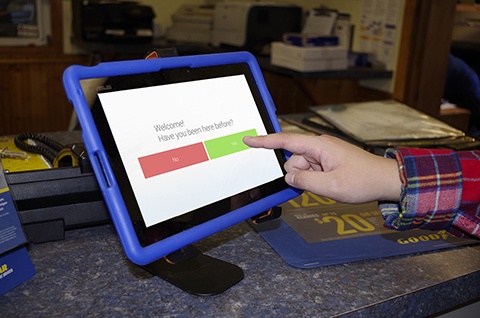 Terry Barnby was tired of seeing spelling and grammar mistakes on repair orders. Too many times when vehicle repairs were finished he'd reach for a customer's paperwork only to find that his employees failed to take down a customer phone number.
Barnby, the owner of Canton, Ohio-based Goldstar Autocare, jumped at the chance to take those headaches out of his hands.
He installed BOLT ON's brand-new Welcome Station Kiosk customer check-in automotive kiosk at his seven-days-a-week shop two weeks ago.
"Honestly I've been kind of waiting for it," he said. "The business markets seem to be way, way behind. BOLT ON has been bringing products out that we've been waiting for."
Customer Check-in Automotive Kiosk Ensures Accuracy
Since customers enter their vehicle and contact information electronically via a tablet device upon entering the shop, gone are Barnby's frustrations over mistakes and phone number omissions.
"The kiosk forces them to do that," Barnby said of the phone number entering requirement as part of the check-in process.
Customers have given "good responses" to the software solution that mimics similar kiosks already in place in airports, grocery and convenience stores and restaurant chains, he said, adding that customers are "impressed with the technology."
"Most of them get it pretty easy because it's pretty simple," according to Barnby.
The Welcome Station kiosk incorporates an illustrated step-by-step format asking both new and returning customers to input or verify their name and contact information, vehicles and note which vehicle is being serviced. The check-in center also features weather-specific alerts that ask customers to consider services based on current or near future climate changes.
Barnby said Welcome Station has already saved his front counter staff time.
Initially paying more for an add-on software solution was something Barnby said he was not sure he wanted to do. But, he said, "enough aggravation by employees sometimes makes you want to spend that much."
"I think most shops that are aggressive in the tech side have been waiting for this," he said.
*Click here to See Welcome Station Kiosk in Action.