How to Drive Traffic to Your Automotive Site
July 15, 2020 / Digital Vehicle Inspections

It's the 21st Century, so you likely already have a website set up for your business. You know it's an essential item as a modern business owner, but how can you ensure that it's seen by potential customers? In order to make sure your website helps you bring in more business, the first step is attracting visitors. Let's explore some of the ways you can drive traffic to your automotive site.
Google My Business
Setting up and optimizing your Google My Business (GMB) page is an invaluable tool for increasing the volume of visitors to your site, and ultimately, to your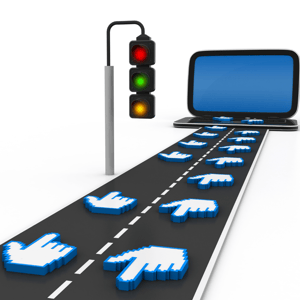 shop. As a shop owner, you want to boost your chances of being found as consumers search for vehicle services in their area. Maintaining, using, and optimizing this platform can have significant effects on your visibility and site traffic. If you've searched for businesses in your area before, you've likely seen the box that pops up with the top three choices, this is called the 'local three-pack.' It's important to enhance the odds of your shop appearing in this pack in order to drive proper traffic to your site. Properly optimizing and utilizing your Google My Business page can go a long way to helping you achieve that goal.
SEO Strategy
In addition to Google My Business, Search Engine Optimization (SEO) on your site plays a critical role in your rankings on Google and how easily your site is found by prospective customers. Effective site optimization involves incorporating the keywords potential visitors are using in search engines onto your site. By matching these words with the terms people are searching for, you increase the chances of appearing higher in the Google search results and ultimately people finding your site. Making sure your site contains the information people are seeking is a crucial part of being found. To begin, start by covering the basics, such as, what are your customers searching for? Your products and services. Incorporate these by writing short blogs about important vehicle information or addressing common questions, create additional pages for your site that feature your services or even customer successes, and make sure important keywords appear on your home page.
Social Media
Social media often gets a bad reputation, but if it's used effectively it can help drive useful traffic to your shop's website. After figuring out which platform(s) would be best for your audience, you can begin to develop a community. While you want to show a variety of content in order to have a balance of helpful and entertaining posts, social media is a useful way to get messages and information across to your customer base. If you're having a promotion, you can create a post with a link leading your followers to make an appointment in order to drive traffic. It's a helpful tool to re-engage and educate your audience to keep them aware of the importance of regular maintenance.
Digital Advertising
As a highly effective tool in your online marketing arsenal, digital advertising gives you the bang for your buck when it comes to driving traffic to your shop's website. Through either Google or Social Media, you can set up ads to reach potential new customers:
Search Ads:

For Google, investing in Search ads can help you drive more traffic by putting your shop at the top of the page. While SEO helps you increase rankings without payment, Search ads bump you to the front of the line. If you've ever searched for something and seen a result with "ad" next to it, that's a Search ad.

Display ads:

These are another option through Google, you've likely seen these on the side of the screen as you're browsing a site in the form of a graphic.

Social Media Ads:

Facebook, Instagram, Twitter, and LinkedIn all have the ability to run advertisements which appear in a user's feed as they use the platform.
Shops can use digital advertising to announce a rebate from a tire manufacturer, communicate a sale, or advertise a service. From these ads, much like on social media, you can link the ad to go to your website for more information or to schedule an appointment.
How Do I Turn Website Traffic into Customers?
Make sure you capitalize on your website traffic. When website visitors come to your page, it's important that you make sure your site has the ability to turn them into customers. Our Pit Stop Websites product can help you turn website traffic into door traffic. With an appointment scheduling integration feature, your newfound traffic has an easy way to get the service they're looking for.