Average repair order (ARO) is one of the most important metrics when measuring the success of your repair shop. When your automotive repair shop focuses on increasing the average RO, you'll run a more profitable shop.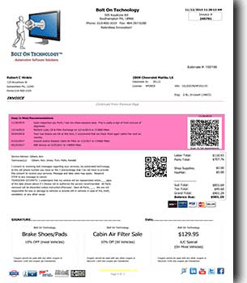 Maximizing the work on every vehicle that comes into your bay will lead to higher AROs. The service on the vehicle will be more thorough and routine services in timely manners will actually save drivers money in the long term by avoid expensive repairs and replacements. Too many shops are more focused on the number of vehicles coming in and out of their shops instead of capitalizing on the cars that are already there.
Maximizing Repair Orders Tickets
There are a few key factors that affect average repair order ticket prices. Each of the following can be controlled in your shop:
1. Know Your Customers
How well do you know your customers? Some customers will only pay for the bare minimum in needed repair, while other customers appreciate preventative maintenance. It is important to understand how much your customer's value their vehicles. Discount customers are a dime a dozen; quality customers are who your business thrives on.
2. Scheduling in Advance
Scheduling in advance allows you to control how many customers come in on any given day. Not only do appointments yield predictable revenue and repeat visits, scheduling allows you to spend quality time with each customer and their vehicle. Customer concerns are better documented, recommendations for additional services can be offered, and a relationship can be formed.
3. Effective Communication
Communication is important to business growth. It is vital to efficiency and productivity both internally with your team members and externally with your customers. Service technicians must clearly communicate the job and all of its components to the service advisor at the front desk. There's a lot of information to pass along and it must be done in an efficient manner. Automotive software, like BOLT ON TECHNOLOGY's solutions, can help make communication immediate, effortless and clear.
4. Thorough Digital Inspection
You must inspect every vehicle and make sure customers know the importance of preventative maintenance. Customers usually pass on a full vehicle inspection because they do not trust the repair shop will be honest with them. One way to build trust around your recommendations is to use digital vehicle inspection. Show the customer why the vehicle is in need of certain services through pictures and videos. Educate your customers is a great way to build trust with them.
When implemented correctly, these helpful tips can drive up your average repair order and make your shop more profitable. Digital inspection software like BOLT ON TECHNOLOGY can aid in the growth and productivity of your auto repair shop by offering easier solutions to your everyday problems.