How To Improve Communication With The Service Bay
May 22, 2020 / Efficiency, Communication, Auto Repair

When it comes to efficiency and management, clear and consistent communication is the only way for all those involved in shop operations to understand exactly what is going on at any given moment. An inability to convey important information can lead to unintended roadblocks in workflow and profitability. With the right technology in place, everyone can clearly share timely information about jobs.
Service Desk to Tech
As a crucial operations hub, the service desk needs to be able to manage communications quickly and easily. An estimate and repair order are the essential elements for relaying information throughout your service process. When a job begins, it's extremely important that all instructions and details are relayed effectively. Canned jobs can aid in eliminating both repetitive tasks as well as communication errors between the service desk and technicians. Once a repair order and relevant jobs are built, it's time to pass along to those doing the work. With Workflow Manager, a service advisor can assign a job to one technician or several, depending on how the shop operates. In addition, if a technician needs to be made aware of any specific details, service advisors can easily relay that without having to leave the service desk.
Techs to Service Desk
Through tablets, techs have a greater ability to send and receive information about jobs. Without having to make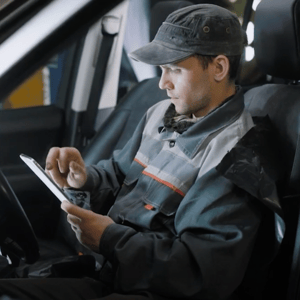 constant treks to the service desk, they can get all the details they require right at their fingertips. Through direct messaging with service advisors, technicians can continue their current job without interruption.
Technicians have a wide array of options to best explain the issues they are observing to customers with photos, videos, and notes. With these multimedia features, they can better describe repair issues so the advisors and even the drivers can see with their own eyes, ensuring that everyone is on the same page and eliminating chances for miscommunications. As the approvals are needed, the technicians can quickly pass along to the service advisors, who can in turn get quick approvals from the customer. With a quick and efficient chain of communication between shop and customer, jobs will be able to be completed faster—significantly reducing stress for technicians trying to maintain their productivity.