We've all heard that cliché before; that it started as an idea and turned into something so much more and, for Mike Risich, it certainly did. "Some days I pinch myself wondering, 'is this is really where we are at!' And it's still the beginning," said Risich.
Risich worked in software for years. He had an idea after speaking with shop owners about creating a product that would help them be more productive, keep better records, and help generate new sales. It took a chance, a lot of hard work, and asking some acquaintances to help him on this new venture to modernize automotive shops.
Humble Beginnings
"We sat at this picnic table in the back of a shop, one phone between the three of us," said Risich. "It was about listening to the shop owners and working to help them with their jobs. That's what BOLT ON TECHNOLOGY does."
Risich said it's still pretty vivid when his developer came to him and said they had 100 shops as customers.
"We were so excited, so proud. I feel like I've blinked and here we are now, more than six thousand shops later."
Traveling the country, Risich and Frank Dragoni (head of sales) worked tirelessly to help make shops aware of what BOLT ON can do. Trade show after trade show, they showed shop owners and service advisors how a Digital Inspection could revolutionize their day-to-day.
"Sometimes, it's hard to believe we've made it this far," said Dragoni.
BOLT ON Hasn't Lost That Drive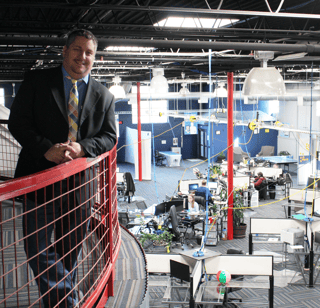 BOLT ON TECHNOLOGY is located in Southampton, Pennsylvania. There are now more than 45 employees after just a few years.
"We listen to our customers and work towards what they need. We constantly want to help them," said Risich.
This father, husband, and entrepreneur makes sure he takes care of his employees.
"It's your work family; you spend a lot of time together. If they're happy, it makes the company better as a whole," said Risich.
"Mike and I hire based on personality. We can train anyone to learn the product, but you can't teach people skills," said Dragoni.
BOLT ON has revolutionized the automotive world. The average shop that uses the software sees a 27% increase in sales, and some much higher. It simplifies things and creates a line of open communication and transparency between shops and customers.
"When customers get that text message showing them images of what's wrong with their car, they're more inclined to get it fixed because they see the issue for themselves," said Dragoni.
Never Satisified
We don't ask for a contracts when customers sign up. "It's about constantly working to improve and never settling," said Risich. "Everything we do is for our shops, and we're just getting started."
BOLT ON TECHNOLOGY was nominated as one of the 'Best Places to Work' in 2015 (by Bucks County Courier Times), winner of the Top Tech Employer Award for 2017, winner of the Inc. 5000 Fastest Growing Companies in the Country for 2016 & 2017, and winner of the 'Fastest Growing Companies in the Region' Award in 2014, 2015, & 2016 (Philadelphia 100); among others. The company is quickly becoming the authority in automotive software development.
"It just started as an idea, and here we are now," said Risich.
To learn more about BOLT ON TECHNOLOGY click here.