Automatically Schedule Appointments in Your Customers' Phone Calendars
June 14, 2017 / Digital Vehicle Inspections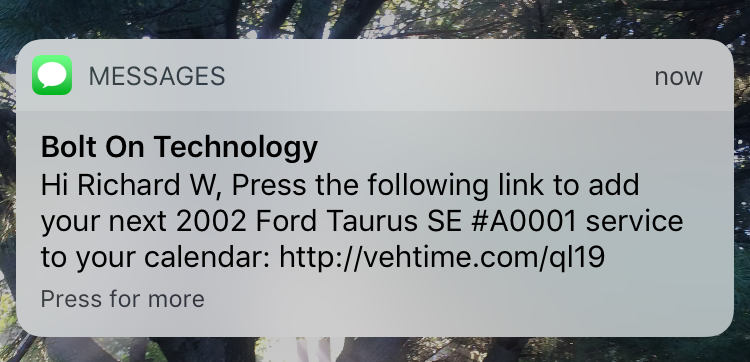 Getting more customers back to your shop, and making sure they're better reminded of their appointments just got a lot easier. Simply put, you can send your customers' next service appointments right to their smart phone calendars.
Everyone is busy, including our customers. As a matter of fact, many of us need a calendar to keep our lives straight. Knowing this, we've upgraded Message Manager to allow you to automatically add your customers' next appointments directly to their smart phone calendar.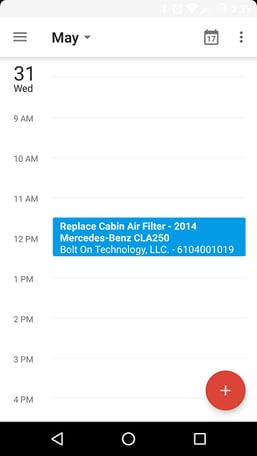 As much as we try to send reminders to customers, they still miss their appointments. With the new 'Add To Calendar' feature, you have yet another way to remind them of their next visit.
How to Use:
For this to be a simple, you first need to go to Message Manager and build a new Quick Template. See this video for building a Quick Template: Building Quick Message Templates.
In this template, you'll need to enter this WildCard to your message to make Add to Calendar work. (Even easier, copy and paste the following text right into Template Builder. Then just add the name of Add to Calendar to the template and save.)
"Hi [CustomerName], tap the following link to add the appointment for the next service on your [Vehicle] in your smart phone calendar as a reminder for yourself. [AppointmentAddToCalendarLink]"
Save the template and you are finished. It is that easy!
If not already done with Lube Sticker Pro, set the customer's next appointment in the schedule. When the customer gets their vehicle, ask them if they would like the appointment set on their phone. If they agree, open Message Manager on your workstation.
If you have the invoice open, go to Quick Message and send the Quick Template message to your customer's phone. If the invoice is not immediately available, go to Message Manager Customer List to find the customer in your data base. Double click on the customer's name. Go to Quick Message, Quick Template choose your Add to Calendar template and click send.
Once the customer gets the text, all they have to do is tap on the provided link and the appointment will be added to their calendar as a personal reminder.
Above is one suggested way to deliver this appointment to a customer's phone calendar. You can also create a message to send to your customers a few days after they have left from today's work as a reminder of that next service.
Check Out Our Other New Features for Message Manager:
Don't have Message Manager?
See a Live Demo
right on your computer or call 610-400-1019 (press 2).