How Two Way Texting Can Lead to Dynamic Customer Relationships
December 01, 2020 /

Technology is ever-evolving, and as a result, the way we communicate needs to evolve too. For many people, messaging is the means of communication of the day. Sure, people still talk on their phones in the way that was originally intended, but take a look at many people's phones and you'll see at least a few messaging apps. There's no denying that this has become a dominant way we have chosen to communicate with one another.
The Missed Opportunities of One-Way Text Messaging
Text message software for small businesses isn't super new. Businesses have had it figured out for a while that this is the right forum to get customers' attention, as an SMS message's average open rate is over 90%. However, many programs only allow one-way messages, such as confirmations or appointment reminders, and are often only able to auto-reply. There's no way for the customer to utilize this technology as a way to contact the shop via text messaging. For any dialogue, customers need to call in. While this isn't the end of the world, the implementation of a two-way texting software can be a game changer in terms of overall customer experience.
Communicating Efficiently
Two-way texting software for auto repair shops opens many doors for customers to get in touch and stay in touch. The ability to send and receive messages can have a range of benefits for your shop's customer relationships.
Approvals: When it comes to approvals, two-way texting isn't just beneficial to the customer, it's valuable to you as the shop owner and to any service advisors. Oftentimes when chasing down necessary approvals from a vehicle owner, you and the customer can fall into an endless game of phone tag. While this can be frustrating for the customer, you also likely know first-hand how waiting for a response can disrupt workflow in the bays. The ability to communicate through texting enables conversations to happen more quickly and painlessly. Vehicle owners can send a quick reply without having to step away from their busy day to take your call, and your techs can continue working without ever having to take a car off the lift ever again.
Status Updates: Keep your customers in the loop throughout the service process. Through two-way texting, vehicle owners are able to receive updates on the status of their vehicle's service in real time.
Appointments: You have the ability to send text messages to vehicle owners as service reminders and to request a confirmation for any upcoming standing appointments.
Customer Education
When service is completed, customers can have digital vehicle inspections sent directly to their mobile devices. The vehicle health reports include a red/yellow/green color-coding that easily communicates severity level directly to the customer. Technicians are able to add in photos and videos to even further illustrate any issues or necessary service for the vehicle owner so they can plainly understand.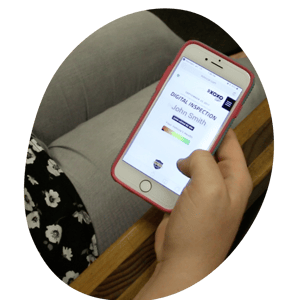 Even though the bulk of shop and customer conversations can take place through two-way text messaging rather than in person, transparency is actually enhanced through this method of communication. Text messaging software enables you to better educate your customers by seamlessly including them in the service process.
Prior to two-way texting software, involving vehicle owners in the maintenance or repair process in a fully immersive way was near impossible—just getting approvals was hard enough. Now with status updates, quick approvals, and comprehensive reporting customers can be more active and involved in the health of their vehicles. Ultimately, this will lead to an increase in trust between customer and shop, and subsequently easier selling due to customers being better educated about their vehicles.
Safe and Secure
Just because text messaging is less traditional does not in any way make your customer relations less secure. Another beneficial feature available for customers, is Text To Pay, a way for customers to pay for their service via their mobile device. This optional feature allows for shops to send invoices via text message. Customers can input their payment information and shops can accept the payment via a secure text message. This payment process is not only efficient, but also safe and secure. Our Text To Pay product is PCI compliant, so shops can carry on business as usual without any important information being open to risks.