Benefits of Digital Vehicle Inspections for Techs
June 24, 2020 / Auto Repair, Digital Vehicle Inspections
Digital vehicle inspections don't just make things easier for customers, service advisors and owners—they directly benefit technicians in major ways. For many techs, miscommunication or lack of communication between the shop and the customer as well as among the service desk and the repair bay can create havoc in the shop. . The frustration builds, and it can feel like you're not able to function at your fullest capability. Through implementing digital vehicle inspections, you can automate many steps, reduce extra work and add efficiency, avoiding manyy hiccups and roadblocks, which leads to a better overall workflow experience.
Information At Your Fingertips
Technicians can have all the vehicle information they need right at their fingertips the moment the vehicle rolls into the bay. With this automotive repair software, techs can instantly and easily access and receive information. Once the job begins, the tech will receive a notification on their tablet informing them that the vehicle has been assigned to them. As they receive that assignment, they will instantly have access to the vehicle's history as well as current service requests. Digital vehicle inspections enable the assigned technician to have a clear view of what they're working with, without ever leaving the service bay.
Clearer Communication
If you've ever struggled to convey your recommendations and the reasoning behind them to a customer, you've likely left money on the table, weakened the relationship between your shop and that customer, or both!. Trying to explain repair information can often be too complicated, unclear or even intimidating to a layman. So why don't you show them? Pictures make a world of difference for technicians trying to communicate their service recommendations to the vehicle owner. Digital vehicle inspections aid technicians in effectively relaying information by allowing the customer to see what they're talking about. With a tablet, the technician is able to take pictures and video of the good, the bad, and the ugly to send to the customer—along with notes and recommendations.
The Ability To Be More Productive
Juggling multiple jobs, trying to keep the workflow moving smoothly through the shop, staying on scheduling and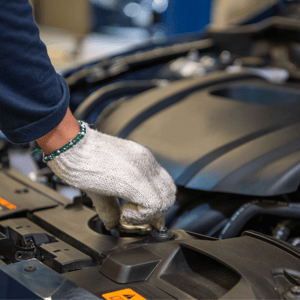 meeting deadlines can be a full-time job. Streamlining the inspection process can save you time by allowing you to anticipate all the steps you need to complete, such as order parts in advance so they are ready when the vehicle arrives. Digital vehicle inspections allow you to make sure an inspection is done the same way every time—ensuring consistency and decreasing omissions.
The increase in communication made easier by digital inspections can also directly affect productivity. Some days, things don't run as smoothly as you'd like and hurdles beyond your control appear. How many times have you had a vehicle on a lift while waiting for approvals, and had to take it down because of a communication delay? How about having to stop what you're doing to ask a service advisor a question? The ability to communicate more quickly and more effectively with both service advisors as well as customers will enable technicians to maintain their productivity with fewer roadblocks.
Want to see first hand how this technology can change your work day? Request a Demo with one of our team members.