What Should My Auto Shop Website Include?
May 26, 2020 / Customer Service, Digital Vehicle Inspections

To get the most out of your shop's website, there are certainly some essential elements that you should consider implementing. The people coming to your auto shop website are seeking out more information for your shop, so what you make available is crucial. Let's break down some important categories to include.
Online Appointment Scheduling
Let your site do some of the work! Adding an appointment scheduler to your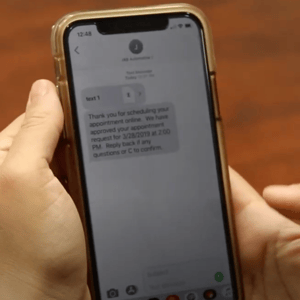 existing page is an excellent way to make sure website visitors turn into customers. An online appointment scheduler allows for appointments to be made at the convenience of the vehicle owner. Instead of having to make a call after a decision has been made, the customer can set the appointment then and there. While this is a great tool to reel in new customers, this also serves as an efficient tool for your current customer base as well.
Display Services & Products
Display your services for your customers so they know your offerings. Making sure there's a list of key products and services you provide is a good place to begin. However, it is recommended that you take some steps beyond just a simple list and expand further. Adding descriptions of services and explanatory information about what they entail goes a long way to educating your customer about maintenance. You may have implemented transparent means of communication with your current customer base, and now it's time to extend that philosophy to your website as well. Education can help ease stigma, and ultimately reduce barriers between shop and prospective customer. In addition to being educational, adding more copy about services and products can help improve your search engine optimization (SEO) rankings to help your site get better visibility.
Add Photos
Photos provide a glimpse into your shop for any visitors who may stop by. Your website is your digital storefront, so making it look presentable in various ways can make your business look more attractive to your site's guests. In addition, this is a perfect way to add personality to your page, and set yourself apart from the rest. Don't be afraid to post a picture of your team. Prospective customers are looking to get to know you from your page, and virtually meeting who will be taking care of their vehicle is a great way to help them feel at ease and welcomed.
Showcase Reviews
Visitors will likely wish to know what your current customer base has to say about you. Adding reviews to your site can help spread the word about the quality of your work. The manner of getting that information out there has definitely changed over the years, but it's evident that opinions of others are still instrumental in a customer's decision-making process. With the endorsements of your current base, you can more likely convince your visitors to come through your door.