When it comes to sharing an estimate, this can be a stressful experience for not only the customer, but for the shop. It's a delicate part of the repair process, so as a result, it should be handled thoughtfully. Bringing your patience and taking these steps can ensure that each time is a positive experience.
Take The Time To Educate
Oftentimes vehicle owners are hesitant to sign off on certain services because they don't completely comprehend what is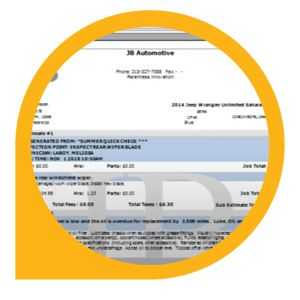 being explained to them. Some customers may already be more educated on the inner workings of their vehicle, but the general population just knows the basics—at best.
When presenting the estimate, be sure to explain the why, not just the what. Help the customer understand the true importance of this maintenance or repair by explaining it in terms they can comprehend. If this feels tedious or time consuming while you have other work piling up, just know that this can benefit your shop in the long run. While it may take time to explain certain things in a digestible way for the everyday driver, you'll soon start to see the fruits of your labor.
Over time, your average customer will become more educated and informed about their vehicle, and won't need repairs or maintenance explained as in depth moving forward, saving you time. Vehicle owners will be more open to suggested services, making this part of the repair process that much easier.
As an added bonus, when your customers become more knowledgeable, you can begin to count on more repeat business. Educated owners take better care of their vehicles without much prompting. They know the risks of skipping oil changes or other regular maintenance services. If done right, you can train your customers to become the experts of their own vehicles, leaving less work for you in the long run.
Technology Is Your Friend
Sharing estimates with your customers just got easier with automotive repair software. Upgrade your estimate sharing process in two new ways:
Send Digital Vehicle Inspections
Digital vehicle inspections (DVIs) are a game changing tool when it comes to customer education. Versatile and customizable, these inspections allow the customer to see what you're talking about with their own eyes. DVIs allow your shop to include photos and then assign a red, yellow, or green designation to clearly outline the status for the customer. At a glance they can easily recognize the priority and importance of the repair.
The photos allow you to be more transparent with your customers in order to build their trust with your shop and their confidence as vehicle owners. As we mentioned earlier, it's important to not only share the what, but also the why. DVIs help you do just that.
Text Estimates to your Customers
With BOLT ON TECHNOLOGY, you can now easily text your customers their estimates. As you're discussing the estimate on the phone with the vehicle owner, it can sometimes be difficult for them to fully grasp what is being explained verbally. Now they can easily get their own copy delivered right to their mobile device and follow along as you're explaining the work that needs to be completed.
Allow The Customer To Ask Questions
Education should always be a main priority when discussing any type of service with your customers. And like any good educational experience, there should be a back and forth between the shop and the customer. Customers should feel comfortable asking about services they're unfamiliar with, so make sure you're creating an inviting environment for them to do just that.
Start Sharing Estimates More Effectively Today
Digital Vehicle Inspections and texting estimates are just some of the tools that you can implement to start creating stronger relationships with your customers. If you're interested in learning more about how you can start seeing increases in average repair order and customer retention, request a demo with one of our product specialists today.