So you've decided you want to grow your oil change business, but aren't sure how to enact that change. Don't worry, we've all been there. You have the goals, ideas, and dreams...but are coming up a little short on the plans. It can be discouraging as a business owner when you're not entirely sure what steps you should take to see the growth you want.
As an owner in the quick lube space specifically, this can feel even more daunting. This sector of the automotive industry is highly competitive, and sometimes maintaining what you already have can seem like a feat in and of itself. But what if we told you it's easier than you think? Let's go over how to grow your quick lube business.
Maintain Low Turnover
To create a solid foundation for growth, you'll need a reliable, steadfast team by your side. The only quick turnovers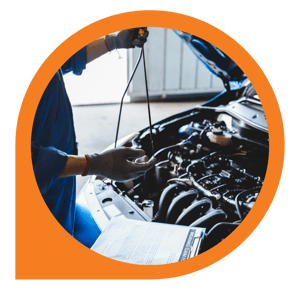 happening in your shop should concern vehicles. Good help is hard to find these days, so making your place of employment more attractive than others should be a top priority.
Time is money, and working to maintain the employee relationships you have currently will save you both. If you're focused on growth, you can't continuously be focused on hiring and training, unless it's to expand your team. Getting new employees up to speed on a regular basis could be costing you your dreams of growth more than you realize.
So, what can you do to maintain your current team? Reassess what you're currently providing them. If you haven't done so already, create opportunities for incentives to keep them motivated and happy. Your biggest priority is getting as many vehicles in and out of your doors as possible, but what motivates your employees to maintain that level of high productivity day in and day out?
Streamline Your Processes
In order to create an experience that can be replicated as you grow, it's important to make sure all your existing processes are as boilerplate as possible. This not only aids in creating consistency and more revenue, but also training any new employees that come on board as your business expands.
Oftentimes investing in the right software is the best course of action. This digital age affords us the ability to better communicate not only with an internal team, but with customers as well — creating an excellent, efficient experience for everyone involved. So, what can you start implementing today?
Digital Vehicle Inspections
Digital vehicle inspections are a game changer for shops looking to streamline processes. Not only are they great for quick lube businesses looking to create templated processes, they also enable you to increase transparency and expediency with your customers. These reports allow your technicians to
customize your inspections to fit your existing procedures
take status photos of any vehicle part
assign a green, yellow, or red status to each part
add technician notes to the photos
text the finished report to the customer's mobile device
Digital vehicle inspections are a great way to show the value of service to your customers, which can ultimately allow you to sell more services per visit.
Appointment Scheduling
When it comes to growing your business, you already know that you want to increase the amount of customers coming in for regular services. It can be a struggle to get people back, but trust us when we say that advanced appointment scheduling works. Sometimes the answer is that simple. By utilizing the findings of the digital inspections to recommend future services, you can create future appointments for your customers, ensuring consistent repeat business.
Get Loyal Customers To Leave Reviews
These days, getting the word out about your business looks a little different. Prospective customers are vetting out quick lube places in your area, and you need to set yourself apart from the others. One quick easy way to do this is to get your customers to start leaving reviews.
This not only helps to increase your visibility online, it assists vehicle owners with their decision-making. Honest, objective reviews from real customers could be what causes someone to become your customer over another place. With Review Manager, that process is easy. You can text a link to a customer to prompt them to leave a review.
Ready To Get Growing?
Now that you know how to grow your quick lube business, don't wait to start implementing change! Growing your quick lube business has never been easier with BOLT ON TECHNOLOGY. Request a demo with one of our product specialists to see the benefits first hand.