How to Increase Profit Margin in Auto Repair
February 20, 2019 / Auto Repair

You work tirelessly every day in your automotive repair shop to make ends meet. After the bills are paid, and your employees are compensated, what do you have left? Focusing on your average repair order (ARO) might not be enough to boost your overall auto repair shop profit margin.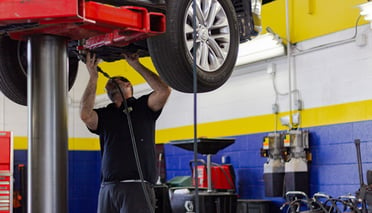 Let's blast back to high school math class. Your profit margin is how much you get to take home after all your costs of goods sold are paid for. This includes overhead costs, employee salary, inventory, and any other expenses your shop endures.
So if your revenue is $100,000, and your cost of goods sold is $38,000, your net profit (what you get to keep) is $62,000—but of course you want to make more. Here's how:
More cars don't necessarily imply more profit, especially if those cars are going to cost you more in labor and service than what you're charging your customers. Capitalizing on the vehicles you already have come into the shop is a great start to increase your profit margin. Let's talk about some ways to increase profit margin for an automobile repair shop:
tips for increasing auto repair shop profit Margins
Pre-Schedule Appointments
Predictable revenue and (more importantly) workload for your team helps determine how many cars you can service daily. For proper shop management, you want your team to be busy while on the clock, but you also want to make sure this time is well spent by giving each car quality service.
To learn more about the importance of pre-scheduling appointments, click here.
Instead of pushing products, focus on your real money-maker—labor. According to a recent article in Chron, profit margins on parts sales hovers between 20% to 28%, whereas labor profit margins can be anywhere between 50% to 65%. Prioritizing the important of routine service labor instead of products will aid in boosting your profit and total revenue.
Digital Vehicle Inspections
Digital vehicle inspections can help maximize the average repair orders for each vehicle you service. You can up-sell services to customers easier and identify additional labor work all while giving the customer the power to make informed decisions on their vehicle.
Evaluating Current Expenses
Paying bills and expenses tends to become a routine habit, but how often are you evaluating if it's worth the investment. How many products or solutions are you paying for that you are not using? If there is room to cut expenses, that's more money in your pockets.
Improving customer service by nurturing the relationships you have with customers is a great way to improve your retention rate. Providing consistent and reliable services and repairs help build customer loyalty and keeps them coming back time and time again.
For more information on how to earn repeat customers, check out this blog.
You can seriously reduce your turnover costs if you are wise and thorough in your hiring and training processes. Equipping your technicians with knowledge is an investment that will continuously reward your repair shop. Hiring the right techs for your shop can make all the difference in your profitability.
Reducing overhead costs and focusing on labor instead of pushing products will help to increase your profit margin considerably. When your automotive repair shop profit margin is growing, it means your shop is becoming more and more profitable which is good news for the customer who relies on you, your employees who depend on their jobs, and for you as the owner of a small business!