Making the switch to become a digital shop can understandably come with some hesitations and frustrations. The way you've run your shop likely hasn't changed all that much before now, and making the leap to incorporate more auto repair technology doesn't exactly come naturally. However, that doesn't mean that there aren't ways to make the transition to digital easier.
Take a Look At Your Current Processes
The best way to start anything is to know where you currently are. Switching to a digital shop doesn't necessarily mean reinventing the wheel, but rather improving upon it. So, take stock of what you're currently doing. What are the processes and procedures for certain services? How is your customer service?
The key to this is to be honest about where there is room for improvement. If existing methods aren't profitable, efficient, or effective, make a note of that. Being able to articulate what, exactly, you'd like to improve will help the transition flow much more easily. Try to pinpoint which tasks are causing bottlenecks in workflows and taking far too long to complete. By having a running list of pain points and inefficiencies, you can then find the software that fits your exact needs.
Clearly Outline Your Goals
Once you know which areas of your shop you'd like to improve upon, the next step is to clearly outline your goals. Sometimes this can be a hard question to answer beyond knowing that you'd like to increase your profit margin, average repair order, or car count.
In fact, going digital can open doors for goals you may not have even considered, but will significantly increase the overall function of your auto repair shop, such as:
Strengthening customer relationships
Better educating vehicle owners
Making your shop more visible online
Much like identifying your areas of improvement, clearly understanding which goals you're looking to accomplish will aid you in the selection process for software.
Explore Products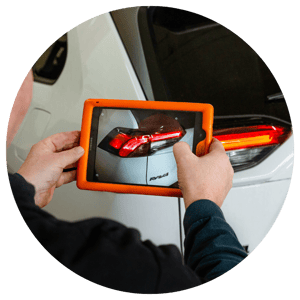 With a more clear idea of which types of problems you're looking to solve, it's time to start exploring available products. It should be noted that going digital looks different for every shop. The industry is currently going under a transitional period as a whole, and a lot of shops have been doing things the "old fashioned way" for a long time.
If you're a shop that has more or less run on paper up until now, you may be starting at a different place from the shop up the road, and that's alright. If you're starting from square one, there are a few more things for you to consider and/or set up as you begin to ease into life as a digital shop.
A shop management system isn't a required step when making the move to digital, but it can set the tone for how your shop operates moving forward. It is advised to make this decision before you make any other software decisions as it can affect which additional products you'll be able to use.
For those who have already reached this step in their digital shop transformation, you can begin to research products that can amplify your shop's capabilities. Consult your list of needs and goals and cross check them with product offerings. We recommend requesting a demo and asking as many questions as possible. It's important to feel comfortable and confident in your decision.
Have Patience
Once you've made your choices, be sure to take it easy on yourself and your team. Onboarding can sometimes be a bit of an adjustment period for everyone. You'll begin to see results quickly regardless, but don't be alarmed if you're not at peak efficiency right out of the gate.
We're Here To Help
If you're currently looking for automotive repair software that can help improve your shop's processes and improve customer relationships, our product specialists are available to walk you through any of our products and answer your questions. Learn more about us here.