Setting Expectations for Your Customers with Auto Repair Software
May 12, 2020 / Customer Service, Digital Vehicle Inspections

The importance of setting expectations for your customers cannot be understated. The absence of good communication can often lead to customers feeling anxious due to being left out of the loop. By relaying information regularly, however, expectations can be managed—leading to a happier and more knowledgeable customer.
Before Service
Setting expectations begins before the customer sets foot in your shop. Effectively managing what customers can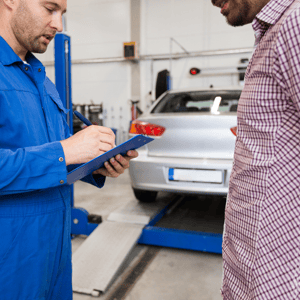 expect in regards your shop isn't just a once and done occurrence. It requires consistent dialogue. With Advanced Appointment Scheduling, in addition to oil change reminders, the software will reference a customer's ticket and automatically take any other recurring maintenance items and plug them into the calendar of your management system with Mobile Manager Pro. Through this, your customer will be in the know when it comes to their overall vehicle health. Upcoming maintenance items and their intervals will no longer be a surprise to them. A week before an upcoming maintenance service, an automatic reminder is sent out a week in advance.
During Service
After check-in, when you have all the information you need and the customer has communicated exactly what they want, the next step is to set expectations. Your customer will want to know how long their service will take so they can plan their days accordingly. At this stage of service, you'll want to bring the customer into the loop. This is easily done with Status Tracker, which will enable you to text a link to the awaiting customer. From that point onward, they will be able to see the current stage of their vehicle's service, as well as their part in it for authorizations. This turns your customer from a passive role in their service experience to an active one. The ability to be engaged and present on the part of the customer will allow them to not only have their expectations managed, but also successfully met. With an absence of blind spots throughout the service process, no longer will you have the anxious customer that isn't sure what they can expect.
After Service
A digital vehicle inspection helps to effectively communicate the overall health of their vehicle post-inspection. Through a color-coded system, customers will be able to easily identify the status of each point of their vehicle. Red alerts the owner to any items that require immediate attention, yellow communicates that a service will be required soon, and lastly green demonstrates that everything is currently alright. In addition to the status, the digital vehicle inspection provides visual recommendations for service intervals. As their service comes to an end, they're aware of the status of each point of their vehicle. This helps them to keep recommended services top of mind for their next visit.