Best Practices For Auto Shop Websites | BOLT ON TECHNOLOGY
June 10, 2019 / Automotive Repair Software, Marketing

We are in the digital age. Your shop is now a 24/7 business because your customers are searching for you online. What will they find? BOLT ON TECHNOLOGY's newest addition to our suite of products, Pit Stop, offers shops the ability to build out websites that are already SEO-optimized. Our customers see results in less than a week!
Website Tips for Auto Repair Shops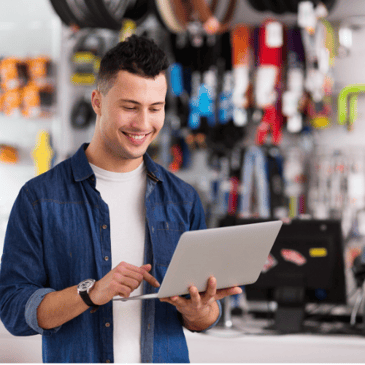 When building out your new auto repair shop website, there are certain things to do in order to stay ahead of your competition. Here are some best practices and tips to help create the best possible website for your shop.
Create an Inviting Home Page
Your home page should serve as "home-base" and guide website visitors to other pages on your website. It should be simple and clear with a concise message while representing your overall brand.
The navigation in both the header and footer should be easy to maneuver and highly visible.
All contact information should be displayed
Social media channels should be provided for customers to follow
Using different color text or bolder font can help the most important information stand out. Try not to clutter your home page with sliders, coupons, featured services, or too many photos. Sometimes, less is more!
Tell Your Story
Your 'About Us' page should hit three main points:
What makes your shop unique?
How/why did you get started?
Who you are—Include photos of key staff (Owner, GM, etc.)
Your 'About Us' page is meant to humanize your shop so customers feel like they get to know your business. Give enough information to seem warm and welcoming. Customers do business with brands and people they trust, so the friendlier and more knowledgeable you sound, the more potential customers will trust you.
Optimize Service Pages
Service pages are the meat and potatoes of your site. It's really why customers are there. They want to know that you offer what they need. There are several things to be aware of when populating this page.
High-quality images are best. Let the customer clearly see what services or products you offer
Creative and clear descriptions will help convey your message and educate the customer
Use keywords and SEO-friendly phrasing so your site appears higher in search engine results pages.
You might not have to list all your services and available products, but listing the most popular items will allow the customers to get an idea of what to expect.
Include Clear Calls-To-Action
Your website should be working hard for your business long after you close your garage doors for the night. Give customers the opportunity to do business with your auto repair shop, even in your off hours. Popular calls-to-actions for auto repair shops include:
Schedule an appointment
Reserve tires (if website has a tire catalog)
Sign up for rewards program or newsletter
Think about your shop's business goals and determine how your website can help you reach them!
Mobile Friendly Design
Above all else, your site should be mobile friendly. There are over 224 million smartphone users in the US—customers are searching for auto repair services on their mobile devices. Having a site that is mobile friendly simply means its dynamic outline converts to fit the size of whatever screen it's being viewed on without distorting your content.
Google ranks mobile usability in the top three factors of deciding how your website will rank on search engines. If your website is not mobile friendly, you will not be able to outrank your local competitors online.
Pit Stop: Professional Websites with 100% Real-Time Integration
Applying these best practices to your new automotive repair shop website will help your site look good to your customers and rank well in search engine result pages. Pit Stop is the only website platform for auto repair shops that integrates seamlessly with your shop management system, helping your shop to:
The most effective website not only makes it easy for customers to find your shop online, but also provides critical business value. If it's time to begin designing your new repair shop website, contact us to speak to one of our knowledgeable team members.